Get Fit As A Team!
Uh-oh! With the holidays lurking around the corner and the cold weather making people want to hunker down and eat comfort food, it can be especially difficult to focus on nutrition and fitness. HR departments can make a big difference by creating a health and fitness challenge to help keep employees focused on staying healthy during the holidays. Read on for some tips and tricks for setting up a wellness challenge that works.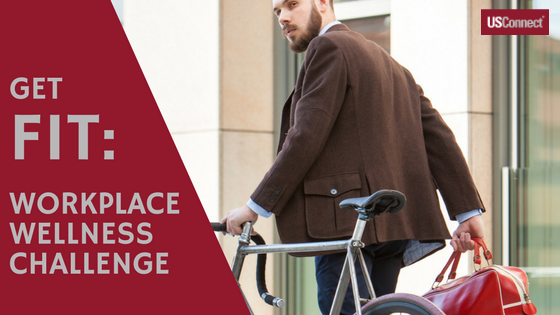 What is a workplace wellness challenge? It's a fun, community-oriented activity where colleagues compete against each other in a friendly contest. It's a way to hold each other accountable toward a shared goal of better health, and it can provide that extra boost to help people stay motivated—especially during the holiday season.
Most workplace challenges have users self-report their activities or results, as regulations from the Equal Employment Opportunity Commission (EEOC) prevent companies from requiring this kind of information. However, wellness challenges work best when participants want to join, not when they're forced to, so the regulations shouldn't impact the success of the challenge.
Challenges can tackle any aspect of nutrition and fitness—from avoiding snacks to walking up the stairs every day. Technology can help with organization, communication, and tracking: for instance, people who use fitness trackers can easily connect and compare number of steps or miles covered. People who use the USConnectMe app can easily get access to nutritional data for all the food they purchase, making it easier to track data for calories, fat, protein, fiber, and important nutrients.
Challenges are also a good way to bond with coworkers while promoting a healthy lifestyle. Try organizing monthly healthy potluck lunches or group activities like walking around the building several times a day. Challenges can last a week, a month, or even longer. You may even hold a "pop-up" challenge for one day, challenging co-workers to go a whole day without eating any added sugar (for instance).
The point of wellness challenges is to have fun and stay healthy, not to win a large monetary prize. However, it's nice to offer an incentive whenever possible. Team t-shirts are a great reminder of the group goal, and gift cards for healthy activities or food are always welcome. For more information, check out these resources from the Society for Human Resource Management, and start your challenge!