Over the holidays, you are likely to be preparing a large meal for family and friends. But what to do with all the leftovers? In a short time, you and your family members will be sick of eating turkey or ham sandwiches, hash, or other leftover-inspired dishes.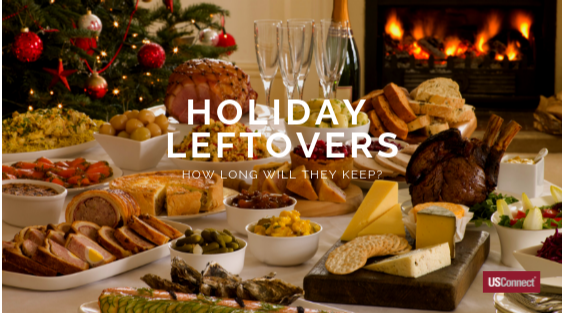 Knowing prior to a holiday how long you can store certain cooked foods will help you avoid having to throw out food as well as ensuring that it is safe to eat.
These factors influence how long leftovers will keep:
1. How long food is left to sit out at room temperature after a meal. Family and friends often sit around the table talking after a holiday meal and may lose track of time. Turkey, stuffing, gravy, and other side dishes should be refrigerated within two hours of the time it was cooked—not from the time it was served.
2. Whether meat was cooked to the correct temperature
Turkey should be cooked until it reaches 165°F as measured by a food thermometer. The temperature should be checked in the thickest part of the breast, the deepest part of the thigh, and the innermost part of the wing.
Fresh or smoked ham should be cooked to a temperature of 145°F and allowed to rest for three minutes. Reheat fully cooked ham to 140°F.
Beef, pork, veal, and lamb should be cooked to 140°F and allowed to rest three minutes.
You can store leftovers for 3-4 days in the refrigerator. If you have a larger quantity of food than you can eat within that time, freeze part of it within two hours of the time it was cooked.
If turkey was cooked with stuffing inside, remove the stuffing and store it separately from the leftover turkey meat.
You do not have to let hot food cool off before putting it into the refrigerator but divide it into smaller portions to allow it to cool off more quickly in the refrigerator.
From a registered dietitian, the following guide is helpful.
A Guide to Storing Food Leftovers
| Food | Fridge | Freezer |
| --- | --- | --- |
| Turkey, cooked | 3-4 days | 2-3 months |
| Meat (ham, beef), cooked | 3-4 days | 2-3 months |
| Gravy | 1-2 days | 2-3 months |
| Cranberry sauce | 10-14 days | 1-2 months |
| Stuffing, cooked | 3-4 days | 1 month |
| Mashed potatoes, yams | 3-5 days | 10-12 months |
| Soup | 2-3 days | 4-6 months |
| Vegetables, cooked | 3-4 days | 2-3 months |
| Pumpkin pie, baked | 3-4 days | 1-2 months |