Many people love gardening but find that because of limitations in their physical space (living in an apartment), or perhaps limitations of their physical bodies (bad back, etc.), they are no longer able to enjoy this activity. Read on and you may find some alternatives that will prevent your gardening hobby from "wilting and dying."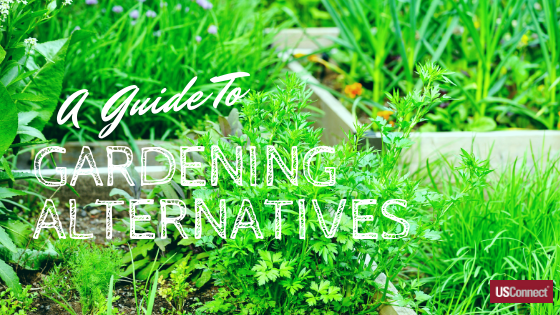 Container Gardens
If you do not have space for a garden, you may be surprised to know that you can grow a wide assortment of vegetables right on your back patio in containers. Container gardening is a successful method that requires a lot less work than planting directly into the ground. It's perfect for apartment dwellers and people who aren't able to do the more physically challenging work involved with an in-ground garden.
What you will need:
Containers – from $5-$10
Seed – (From 20 cents/packet at dollar stores to $2.50/packet at garden shops)
Tools: hand trowel, spade, gloves – $2-$10
Soil – Plain bags of topsoil cost under $4, but if you get the more expensive kind with Miracle Grow or other fertilizer mixed in, expect to pay $6-12.
Sunny location – Even the best seed and soil won't produce vegetables without a lot of sun. If you have a porch that receives shade most of the day, you probably won't have much success growing vegetables. There are plenty of shade-loving flowers though, so you could still enjoy gardening in containers.
When selecting containers, make sure they have enough space for the roots to spread and grow. You'll need them to be a minimum of 12-14 inches wide, and at least 10-12 inches deep. Drainage is important too, so if your containers do not have pre-drilled holes at the bottom, be sure to drill some, or your plants may get root-rot and die.
These are some vegetables that do well in containers:
Tomatoes
Green onions
Turnips
Potatoes
Carrots
Peppers
Green beans
Lettuce
Cucumbers
Squash
Tall plants, such as tomatoes and some peppers, will need a trellis support around them as they grow so that they don't topple over.
For vining plants such as beans, squash, and cucumbers, you can use stakes and supports that go around the plants, or you can train them to grow up string or yarn that you suspend from above. Some people use one long pole with yarn tied at the top and let the vines grow up the yarn around the pole. Make a "privacy screen" of green leaves by letting the plants grow up a "framework" of yarn string that you hang from the top of the porch. Get creative!
Raised Beds
If you do have space in your yard, and you want to try a small garden, consider a raised bed. They require less space than a traditional garden. Gardening in a raised bed is less physically demanding than an in-ground garden because you do not have to till the soil, and depending on how high it is, you won't have to bend over quite as much. There is also much less weeding to do than with an in-ground garden, so it is less work overall.
Plants grow more vigorously with a raised bed because the soil in the prepared bed is more conducive to plant growth than the topsoil of your yard. The soil you add to the raised bed is soft and easy for roots to move through, and you can prepare the bed with fertilizer and soil amendments to make it perfect for plant growth. Raised beds have less compaction in the soil, more aeration, and better draining than in-ground gardens, and they are easier to weed. The walls also create a barrier to pests such as snails and slugs.
The richer soil of raised beds (with its higher content of organic matter and compost) can support more plants per square foot than a traditional garden, therefore, increasing your yield. Plants in a raised bed are intended to be planted close together, filling in the bed as they grow, with the leaves touching to provide additional protection from would-be weed invaders.
While pre-constructed raised beds are available for purchase, you can build one yourself much more cheaply with a few planks of wood and some screws. Use cedar; it is rot and bug resistant. Although it is more expensive, cedar lasts many years longer than other types of wood. Avoid using railroad ties as they may be coated in creosote, which is toxic. Thicker wood will last longer. If you opt to use concrete blocks or bricks, be aware that concrete will raise your soil pH over time, requiring that you eventually use amendments to lower the pH.
What you will need:
Wood – $15-$20 (If you purchase from Home Depot or Lowes, they will cut it to your requested dimensions at no additional cost.)
Bag of Compost or manure – $2-$5 per bag
Bag of fertilizer-enriched soil – $3-8 per bag
Wheat Straw mulch – $4-$6/bale
Seed – .20 cents/packet – $3.00/packet depending on store
Hand tiller/trowel/gloves – $2-$10 (Cheapest at the dollar stores)
Choose a location that gets lots of sunlight during the day, at least 6 to 8 hours. Don't make the bed too wide or it will be hard to harvest from the center. You can choose the depth but keep in mind that most plants' roots extend 6-12 inches in depth. Consider a design that will allow you to sit on the border of the bed while you work inside it. This will take additional strain off your body.
Prepare the ground beneath the bed by covering with a black tarp to kill off any weeds or weed seed that are currently there. Leave it for 3-4 weeks, and then remove the grass and any weeds that remain.
It is advisable to till the soil a good 6-8 inches deep before building the raised bed. The good news is you only have to do it this first time and then enjoy till-free gardening for years to come!
Next, fill the bed with a mixture of compost, topsoil, organic matter (manure, bone meal, peat, hay, or straw mulch). This provides a nutrient-rich environment for plant growth and helps hold some moisture in the soil.
Raised beds dry out faster, so during the hot months of summer, consider adding straw, mulch, or hay as a layer on top of the soil to hold in moisture. Water frequently when your seedlings first sprout and begin to grow, but after that your raised bed will need very little maintenance.
All the plants that grow well in containers also do well in raised beds. Just about anything can be grown well in a raised bed. Other than the ones mentioned above, some other veggies to consider growing in your raised bed garden include these:
Rhubarb
Spinach
Pumpkins
Asparagus
Beans
Brussels Sprouts
Pumpkins
Broccoli
Whether you opt for a raised bed or a container garden, don't let space or a bad back be a limiting factor in your horticultural adventure! Get out and grow!