With numerous visiting relatives and all the cooking, cleaning, and prepping, it can be hard to find time to fit in a workout on Thanksgiving Day. But making time to exercise can be easy if you make it a family affair.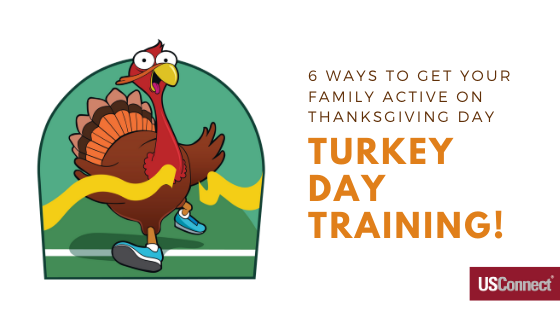 So go ahead and indulge in the turkey, stuffing, mashed potatoes with gravy, and pumpkin pie knowing you have a plan to burn off the excess calories. It doesn't have to require a gym; there are lots of ways to get active while spending time with your family.
Here are some ideas to make incorporating exercise into your Turkey Day festivities fun for the whole family:
Sign up for a "Turkey Trot"
Many areas now hold Thanksgiving Day 5K runs or "Turkey Trots," usually to benefit a local charity. Starting the day with a community run or walk is a great way to curb your cravings and minimize any damage you may do later from overindulging. It's also a fun way to spend time with your family and friends, while also giving back to the community. And isn't that what the holidays are all about?
Take a Walk
If a formal race isn't your speed, even taking a brisk 30-minute walk after your Thanksgiving dinner can have health benefits. Again, grab your family or friends, lace up your sneakers, and get outside for a walk around the neighborhood. You'll also be making memories and maybe even starting a new, healthy family tradition.
Play a Game of Touch Football
For many families, a friendly game of touch football after a big Thanksgiving meal is an annual tradition. Don't just sit on the sidelines this year; join in and have fun while burning calories. If football is not your thing, you can kick around a soccer ball or shoot some hoops. The key is to make it fun for everyone—for both the kids and adults—and get moving.

Take a Hike
Head to a local hiking trail with the whole family to explore nature and get some exercise. There are usually trails for all levels of hikers, so choosing a beginner or intermediate trail is a good idea if you have young children or elderly family members joining in the fun.

Play Interactive Video Games
Chances are, there will be kids at your Thanksgiving Day celebration who will want to play video games. Keep them from zoning out in front of a screen all afternoon by choosing one of many fitness video games where the whole family can get active. Games such as Just Dance, Wii Sports, or Wipeout require players to move and offer some friendly competition. This is also a great option if the Turkey Day weather in your area is too cold or rainy to get outdoors.

Hit the Black Friday Sales
Many stores now open on Thanksgiving night for shoppers to get an early start on their Black Friday shopping. Bring along your family and friends and hit the stores—all that standing in line and walking around shopping centers are a fun way to fit in a walk and get a head start on your holiday shopping.