Holiday office gifts—whether a novelty mug of candy for a cubicle-mate or a lavish corporate gift basket—tend to rely heavily on unhealthy holiday treats. Chocolate kisses, homemade baked goods, smoked sausage: these delicious gifts can derail even the most determined healthy eater.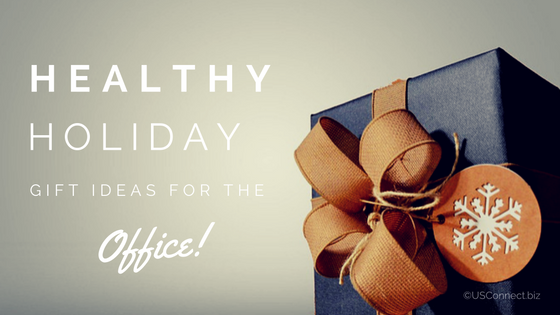 While most people enjoy a gourmet goodie once in a while, the holiday season tends to see an excess of unhealthy food. When giving office gifts this year, why not help colleagues stay healthy with these gift ideas?
DIY Healthy Treats: Why fill that "I Hate Mondays" coffee mug with chocolate candies when you can create your own healthy trail mix? Mix nuts, legumes, seeds, dried fruit, and even a few treats like chocolate chips to create a high-energy, low- sugar snack.
Healthy Baked Goods: You don't have to give up baking for your friends and colleagues just to help them stay healthy. Healthy recipes abound—filled with suggestions to reduce fat and sugar and increase fiber and protein in baked goods. Check out these websites to get you started:
The Food Network's Healthy Holiday Desserts: http://www.foodnetwork.com/healthy/photos/healthy-holiday-baking.html
Greatist's 47 Healthy(ish) Holiday Cookie Recipes You'll Want to Hide From Santa: http://greatist.com/health/healthier-holiday-cookies
Cookie and Kate's Baked Goods Recipes: http://cookieandkate.com/category/food-recipes/baked-goods/
Amy's Healthy Baking: http://amyshealthybaking.com/
Healthy Gift Baskets: For clients and other corporate associates, edible holiday gift baskets are almost expected. But why not break the mold this year with a healthier gift basket? If you have the time and manpower, you can create your own baskets using healthy goods like gourmet cooking oils, nuts, grains, and even some dark chocolate. There are also many companies that specialize in healthy gift baskets. Here are just a few:
It's Only Natural Gifts: http://www.itsonlynaturalgifts.com/
The Healthy Basket: http://www.thehealthybasket.com/corporate.shtml
Olive and Cocoa: https://www.oliveandcocoa.com/category/healthful-food-gifts