If you are serious about losing weight and getting in shape, you may be wondering whether you should hire a personal trainer or a dietitian to help you achieve your goals. With the many different diets that have risen in popularity and then faded to obscurity and the ubiquitous gyms and exercise systems claiming to be the best, making the right choice for yourself takes a little time and research.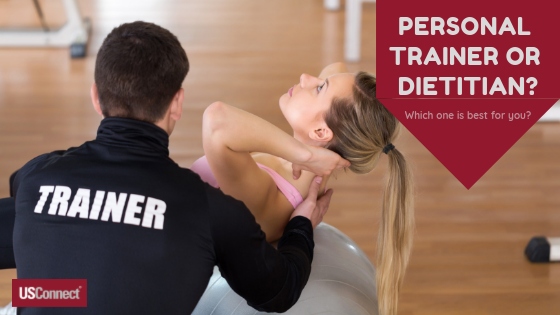 One thing is certain: you need to ask yourself if your main goal is to lose weight or to get in shape? These two things are very different, though they are often believed to be the same. A person can be very thin but not very muscular, and likewise, someone may have been working on those muscles but still have a lot of pounds he or she needs to lose. How you answer that question will help you to determine if you may benefit more from the advice of a personal trainer or a dietitian.
When it comes to weight loss, exercising helps but is not nearly as effective in the short term as making changes in your diet. Shawn M. Talbott, PhD, is a nutritional biochemist and formerly acted as director of the Nutrition Clinic at the University of Utah. He said, "As a rule of thumb, weight loss is generally 75 percent diet and 25 percent exercise. An analysis of more than 700 weight loss studies found that people see the biggest short-term results when they eat smart. On average, people who dieted without exercising for 15 weeks lost 23 pounds; the exercisers lost only six over about 21 weeks. It's much easier to cut calories than to burn them off exercising. For example, if you eat a fast-food steak quesadilla, which can pack 500-plus calories, you need to run more than four miles to ʻundo' it."
If you had a choice between jogging for thirty minutes to burn off the calories, or just eliminating two 16-ounce cans of soda, what would be the easier choice? For weight loss, seeing a dietitian for help in planning an appropriate diet that is safe and effective in helping you reach your goals is probably your best choice.
On the other hand, if you are not so much interested in losing weight as in developing your muscle mass, which will also help in long-term weight loss goals (more muscle increases metabolism), the personal trainer might be the way to go. A personal trainer can create a personalized regimen for you that will help you increase your strength, introduce you to new types of exercises, prepare you for any physical challenges you want to undertake (like running a 5K or marathon), help you stay motivated, and help you develop fitness goals that can ultimately encourage weight loss.
Whether your goal is to become more physically fit by increasing your muscle mass and overall strength, or to lose some weight, or both, the help of a personal trainer or dietitian will help you attain your goal faster with healthy practices and without injury.
Below are some professional organizations that you can contact to locate certified professionals: