Healthy Food, Healthy Workforce
Want a healthier workforce? Let health and wellness take the front seat by offering employees easy choices for a better lifestyle!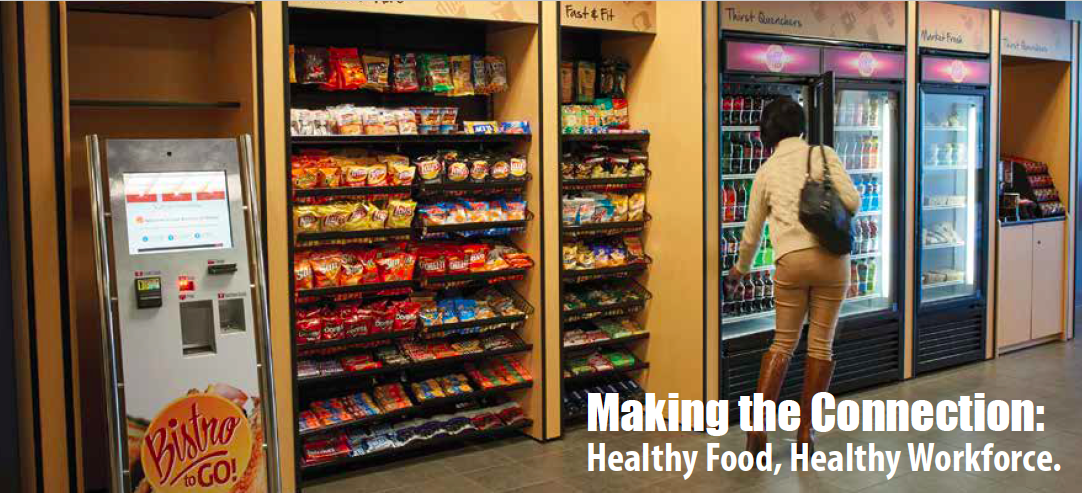 The need for employee wellness programs is well documented, especially in the area of health and fitness. The sedentary nature of office work lends itself to job-related obesity, which can raise healthcare costs and reduce productivity. In addition, a 2015 CareerBuilder survey shows that work-related stress significantly raises employees' tendency toward obesity. However, nutrition also plays a major role; many respondents reported eating at their desks, snacking, or eating out/takeout as contributors to weight gain.
These benefits of employee wellness programs are also well documented:
Decreased healthcare costs
Reduced absenteeism
Improved productivity
Reduced worker's comp claims
Improved employee morale
Reduced turnover
The Right Choice… for a Healthier You
USConnect's The Right Choice… for a Healthier You® program helps employees make better choices at mealtimes and for snacks, with per-serving nutritional guidelines for fresh food products that meet our healthy standards. Managed by USConnect's staff nutritionist, these guidelines follow the recommendations of a number of leading medical health agencies for the prevention of chronic illnesses including heart disease, diabetes, obesity, and hypertension. USConnect's Bistro To Go!® Kiosks make fresh, healthy options available every day to help combat the poor nutrition that often accompanies office work.
In early 2016, USConnect introduced its USConnectMe app, which puts healthy eating right at the tip of employees' fingertips. The app, which incorporates the USConnectMe loyalty program, gives users not only the chance to review The Right Choice for a Healthier You® options, but also access The Right Choice for a Healthier You® videos. These videos feature tips and recipes from our registered dietician and are only available to employees at businesses that partner with USConnect.
One of the most frequent reasons that employees don't take advantage of their companies' health and wellness programs is that it's too much work. USConnect's The Right Choice for a Healthier You® program makes it easier for employees to make better choices, and helps your health and wellness programs to be a success.