Making Healthy Choices the Week After Halloween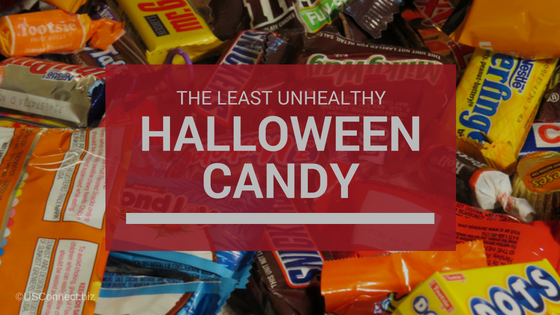 Right after Halloween is the time of year when people are likely to have lots of candy hanging around both the office and the home. We wish we could write a story on the healthiest Halloween candy, but unfortunately, candy is never a healthy thing to eat. It is, however, something that most of us do eat, and in fairly high quantities in early November. So, if you're going to indulge, which candy does the least damage? Follow these guidelines:
Embrace the Dark, and Stay Away from the Light. As we've discussed, dark chocolate has significant health benefits, especially when compared to milk and white chocolate. Although most mass-market chocolate does not contain as much of the good stuff of dark chocolate (phenylethylamine, flavonoids, antioxidants, and theobromine), it does contain some of these nutrients. Milk chocolate has less, and white chocolate has almost none.
Go Nuts. Many people embrace nuts for their health benefits, including high protein and fiber levels, LDL-lowering fats, vitamin E, omega-3 fatty acids, and plant sterols. Halloween candy with nuts can fill you up and make you feel satisfied, so you are less likely to want to binge on your kids' whole trick-or-treating bag.
Be a Sucker. Lollipops and sucking candies, like Jolly Rancher and Werther's Hard Candy, keep your mouth occupied for a longer time than something that you can quickly chew and swallow. This can slow the constant hand-to-mouth feeding of Halloween candy.
Read Before You Eat. Even if you don't have the original back for checking nutrition data, this information is easily available online. Three Musketeers bars, for instance, have lower fat and sugar counts than Milky Way bars. If it's otherwise a toss-up for you, go for the healthier choice! Check out TwoFoods.com as a nifty tool for comparing your Halloween candy.
A further note of good news, as this blog has already discussed, portion control is a big part of making healthy choices. Most Halloween candy comes in "fun size" packages, designed for distributing to trick-or-treaters. Let this packaging work for you—helping you keep your indulgence to a minimum.