Exercising in Hot Weather
The southeast's mild climate makes it possible to exercise outside year-round. Now that winter's cold and spring's rains are gone, summer and the warm weather is enticing people outside in droves. However, that warm sun that loosens your muscles and feels so good on your skin can actually be doing serious damage. Heat and sun can be as dangerous as cold and ice when it comes to exercising outdoors, so read on for tips on how to beat the heat.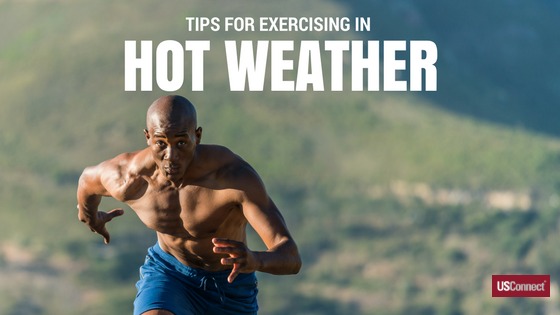 It's all about the timing. In the winter, lunchtime is an excellent time to take a walk, run, or ride a bike outside. In the summer, not so much. The sun is at its zenith at noon—making it the worst time of day for being outside. If possible, avoid the sun's rays from 10:00 am to 4:00 pm. With summer's longer days, prework and postwork are the best times for exercising outside.
It's not the heat; it's the humidity. The high humidity of the southern summer climate can raise the heat index, making a hot day feel even hotter. The Mayo Clinic warns that exercising in the heat can raise your core body temperature, resulting in heat cramps, heat exhaustion, and heatstroke. If you experience headaches, lightheadedness, confusion, nausea, or muscle cramps, stop exercising immediately and take steps to cool your core temperature. On extremely hot days, you might do better to exercise in the gym or to even run up and down the stairs in the office.
Despite (or because of) the humidity, don't forget to hydrate. Exercising in hot weather produces extra sweat, which makes it more important than ever to stay hydrated. As discussed in our post on sports drinks, water is usually the best form of hydration. For prolonged exercise in hot weather, however, the electrolytes and sugar in sports drinks may provide important replenishment for your system.
Stay protected. When you head outside to exercise, don't forget to protect your skin from the sun. Even during non-peak hours or cloudy weather, harmful UVA rays can still cause sun damage and skin cancer. Always wear a broad-spectrum sunscreen with an SPF of at least 15, and when feasible, cover your skin with lightweight, breathable fabric.