It's not exactly breaking news: nutrition is one of the major factors that impacts employee productivity. One of the seminal works on the topic comes from the International Labour Organization (ILO), which published a study in 2005 linking nutrition to workers' health and productivity. The report, which took a global perspective on both developing and developed countries, found that poor nutrition can reduce employee productivity up to 20 percent. Both malnutrition and obesity can drastically affect workers' ability to come to work and perform effectively.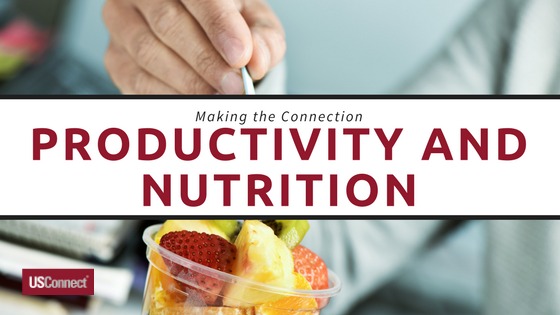 More recently, a report from Britain's Healthiest Workplace found that British companies lose an average  of 27.5 days of productive time per employee per year due to health-related absenteeism and presenteeism. Presenteeism, according to the Harvard Business Review, is when employees show up to work but are not functioning at their optimal levels. Presenteeism is insidious, because unlike absenteeism, it is difficult to detect and even harder to track. Nonetheless, research suggests that it may cost companies up to 10 times more than absenteeism.
Wellness programs may be the answer. Research from the Health Enhancement Research Organization (HERO), Brigham Young University, and the Center for Health Research at Healthways suggests that employees who eat healthily and exercise regularly have a 27 percent lower absentee rate and 11 percent higher rate of job productivity than their obese colleagues.
Although companies can't force employees to maintain healthier lifestyles, they can make it much easier for them to do so. Offering discounts at health clubs and creating pre-, post-, and mid-work exercise groups are great ways to encourage physical activity. And providing healthy food options and detailed nutritional information helps employees make good eating choices. That's why USConnect's The Right Choice…For a Healthier You™ program gives employees the information and options they need to make good nutritional decisions.
Employee productivity comes down to the choices of each employee, but armed with the right research and some great food choices, HR departments can improve productivity across the board.