Milk! It's seemingly the most basic of commodities: a straightforward product that has remained more or less unchanged for the past century.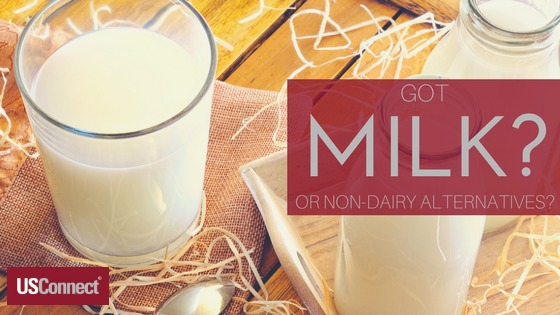 However, milk is far from the simple drink you might remember from your childhood. For reasons ranging from dietary preference to medical necessity, many people choose non-dairy alternatives to milk. Let's see how an eight-ounce glass of each stacks up:
Cow's milk (1% fat). This is what most westerners think of when they think of milk. Cow's milk is high in protein (8.2 grams) and calcium (31 percent of the recommended daily value) and relatively low in fat (2.4 grams), although it has a fairly high calorie count (102). It is an inexpensive commodity, but many people—approximately 65 percent worldwide—have trouble digesting the lactose that is an intrinsic part of milk's make-up, making it inaccessible to them.
Unsweetened Almond Milk. A go-to for many vegans (people who eat no animal products at all), unsweetened almond milk is much lower in calories (30-50) than cow's milk. However, it still has 2 to 2.5 grams of fat, and at only one gram of protein, it doesn't come close to the muscle-building power of cow's milk. Many almond milks are fortified with calcium and supply 30 to 45 percent of the recommended daily value (RDV) of this mineral. One other factor about almond milk: production is very hard on the environment, requiring over a gallon of water for each almond grown. That's a lot of water to create a gallon of almond milk!
Unsweetened Coconut Milk. Many people prefer coconut milk for its higher fat content (4.5 to 5 grams), which gives it a creamier texture than many nut milks. It has 40 to 80 calories, but zero grams of protein, so you'll have to look elsewhere to provide this crucial nutrient. Like almond milk, it's usually fortified with calcium to supply 30 to 45 percent RDV. It's a good option for people with nut allergies or those who don't like the slightly nutty flavor of nut milks.
Low-Fat Plain Soy Milk. A good choice for vegans who want to improve their protein intake, soy milk contains 4 to 6 grams of protein (or even more) and 20 to 45 percent RDV of calcium. It has 1.5 to 2 grams of fat and in many ways has a similar nutritional profile to cow's milk. With soy milk, as with other non-dairy milks, it's crucial to look at the ingredients and nutritional information; many or most varieties have added sugar to improve taste. Another concern is that 94 percent of soybeans are genetically modified in the United States and will likely have absorbed glyphosate from the pesticides sprayed during growth. For this product, it might make sense to look for organic or non-GMO options.
All nutrition information is from Consumer Reports' "Choosing the Right Milk for You."