Non-Fresh: Which is Best?
When Fresh Produce Is Hard to Find, Which Foods Have the Most Nutrients?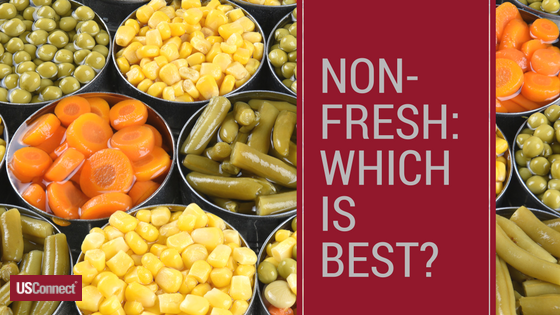 The days may be getting longer, but unless you live well south of the 35th parallel, you're still several months away from being able to access most fresh fruits and vegetables. Inquiring minds want to know: when fresh produce is not readily available, what's the best way to get the half-your-plate per meal of fruits and veggies that the USDA Center for Nutrition Policy Promotion recommends? The answer, ironically, may be to stay away from the fresh produce aisle.
It turns out that as soon as produce is harvested, it starts to lose its nutrients. Modern food storage and transport methods often make fruit and vegetables look like they're still fresh, when in fact, their bright colors and firm skin are the result of wax coating and cold storage. The produce itself may be as much as three months old, with the best of its nutrients long gone.
A study out of the Department of Food Science and Technology at the University of California, Davis, found that "Losses of nutrients during fresh storage may be more substantial than consumers realize. Depending on the commodity, freezing and canning processes may [better] preserve nutrient value." This study and others prompted the Fruit & Veggies—More Matters® initiative (in partnership with the Centers for Disease Control) to recommend that "All Forms of Fruits and Vegetables Matter," including frozen and canned.
It is the enzymes in fruit and vegetables that cause their nutrient loss, as well as the loss of color and flavor. To halt this process, the enzymes need to be "deactivated." One way to do this is to blanch—quickly boil and then douse in ice water—and then freeze them. This is how most commercial frozen food companies package their vegetables, and since they do this process right after harvesting the food, most nutrients remain in the food. To help further maintain the integrity of the food, most frozen food companies quick-freeze their vegetables, which slows the rate of deterioration that can occur, even in the freezer.
Canned fruit and vegetables, too, often contain more nutrients than less-than-fresh fresh produce. Fruit & Veggies—More Matters® offers five key facts about canned produce:
Canned food offers sound nutrition to help people achieve nutrient needs.
Canned food offers comparable nutrition to fresh and frozen.
You can enjoy canned food while watching sodium intake.
Canned foods are minimally processed.
Steel cans are among the safest forms of food packaging.