Last year, we covered the basics with Coffee 101. Now, let's take a deeper dive into America's favorite hot (or cold!) beverage.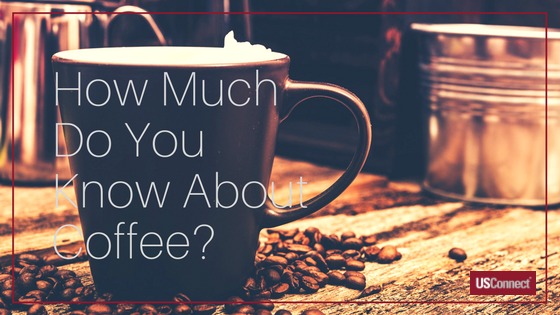 Decaffeination
While some people can't imagine drinking coffee without the caffeine, others just like the flavor and enjoy drinking it decaffeinated. And as this blog has covered, people who have trouble getting at least seven hours of sleep should avoid or reduce caffeine, especially within six hours of their bedtimes. According to experts, caffeine occurs naturally in coffee beans, and roasters remove it from green, unroasted coffee beans, either with solvents (like methylene chloride or ethyl acetate) or without. The solvent-free decaffeination method, also called the Swiss water method, takes longer but may maintain more of the bean's original flavor. Note that even decaf coffee is not 100 percent caffeine-free; a study out of the University of Florida found that even coffees labeled as decaffeinated contained small amounts of caffeine.
Brew styles
The most common brewing method, both in offices and homes, is automatic drip. An automatic drip coffeemaker heats water to the boiling point and then slowly drips it over ground coffee beans. It is convenient, but it may make a weaker brew than some other methods.
For a stronger, more flavorful brew, try a French press. A French press requires a bit more manual labor: pouring boiling water into a pot of grounds, letting it brew, and then pressing the grounds down to leave only coffee. Because there's no filter, the flavor is stronger (and some say better).
For the ultimate in convenience and customization, it's hard to beat single-serve coffeemakers. First popularized by Keurig, single-serve coffee machines pour hot water through a pod—or "k-cup"—to create a variety of hot beverages, including coffee, tea, and cocoa. Coffee from single-serve machines tends to be weaker because it doesn't steep or brew for very long. However, the flip side of the short brew time… is the short brew time; your coffee is ready in less than a minute, as opposed to the 10 minutes required for automatic and French press coffee. Single-serve machines are also a great choice for small offices where different team members have differing tastes in hot beverages; instead of brewing whole pots of coffee that may go to waste, single-serve machines allow everyone to brew his/her own drink to order.
For all the flavor without the bitterness, try cold brewing your coffee this summer. Like a slow-motion French press, cold brewing involves steeping ground coffee in cold water for 24 hours or more, then filtering out the grounds.
Thirsty for more? Check out USConnect's full line of Route 66 custom-roasted coffees!