The connection between workplace wellness and employee productivity is well documented. In an effort to both boost employee health and improve employee retention in a tight job market, more and more companies are offering nutrition, fitness, and other wellness programs.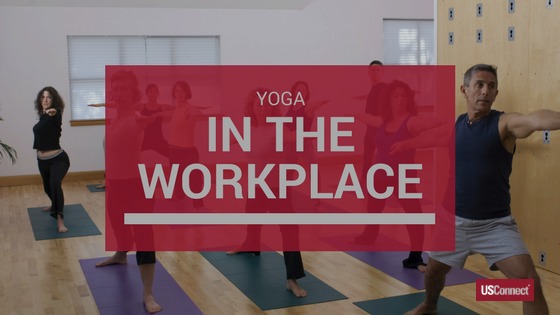 One offering whose popularity keeps growing is workplace yoga. Studies have linked the mind-body connection of yoga to better body image, more mindful eating, and improved fitness outcomes, among many other benefits. It turns out that when it comes to workplace wellness, yoga has some very specific benefits that increase employee productivity. Employees who participate in workplace yoga programs report:
Increased energy
Decreased pain
Stress relief
Better concentration
Heightened creativity
Improved morale
The practice of yoga is relatively simple; it requires only a mat and some room to move around. This relatively low barrier to entry—not requiring any special equipment or a specially-designed room—makes yoga programs among the easiest to set up. For just the cost of some mats and a certified yoga instructor, HR departments can offer lunchtime, morning, or evening yoga classes for employees. Evidence indicates that employees flock to these programs and even demand more.
A study from the National Business Group on Health estimates that around 50 percent of corporate healthcare costs are related to "lifestyle issues." The World Health Organization counts stress and depression as major factors in reducing corporate employee wellness, citing "long hours, multi-tasking, stiff competition, rigorous commute, irregular eating habits, sedentary desk jobs, and bad sitting postures as the prime offenders contributing to poor employee states of mind.
Once a company has established a yoga program for employee wellness, the employees themselves often take it upon themselves to pursue their own individual yoga practices. Again, since yoga is such a fundamentally simple exercise, it lends itself to self-guided, self-paced practice that employees can do for 10 or 20 minutes on their own.
If you're considering setting up a yoga program at your workplace, Workforce magazine has some tips:
Survey employees to gauge interest level, determine what type of yoga to offer, and identify the most popular times for classes.
Talk to several certified yoga instructors with experience creating and teaching workplace yoga programs.
Schedule classes several months in advance so employees can plan their schedules.
Educate employees the benefits of relaxation and stress management through yoga.