May was Celiac Awareness Month, but managing this serious autoimmune disorder is a year-round job. If you're in the foodservice industry, here's what you need to know about Celiac Disease.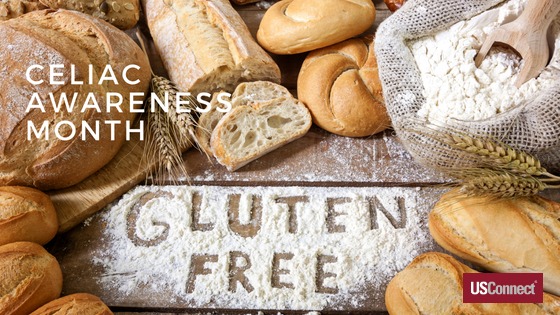 Celiac Basics
According to the Celiac Disease Foundation, celiac disease is a genetic disorder in which the body's immune response to gluten (a protein found in wheat and many other grains) is to attack the lining of the small intestine (the villi).
The attacks damage the villi over time, which affects the body's ability to absorb nutrients. If left untreated, celiac disease can lead to other autoimmune disorders like Type 1 diabetes and multiple sclerosis as well as serious neurological conditions and even stomach cancer. Short-term symptoms for adults usually include diarrhea, fatigue, and weight loss as well as other forms of gastric distress.
Approximately 1 percent of Americans have celiac disease.
Celiac Treatment
There is currently no cure or medical treatment for celiac disease. The only way to keep celiac disease at bay is to adhere to a lifelong gluten-free diet. Unlike food allergies or food intolerances, which may wax and wane during a lifetime or have gradations of seriousness, celiac disease requires complete avoidance of even trace amounts of gluten for the rest of the celiac patient's life.
Avoiding Gluten
Thanks to heightened awareness of celiac disease, it's easier than ever for people with this disorder to shop and eat normally. Many foods are naturally gluten-free: especially "whole" foods like meat, fruit, and vegetables. And due to a rise in the perceived effects of gluten intolerance, there are many options for gluten-free bread and crackers as well as other processed food.
Standards/Certification
Since only trace amounts of gluten can set off the immune system of someone with celiac disease, it is important that any food that is labeled Gluten Free (GF) is truly free from gluten. The Gluten-Free Certification Organization provides verification through a "stringent review process" that any certified GF product has 10 parts per million or less of gluten.
Food Service for Customers with Celiac Disease
The most important tool for people with celiac disease is knowledge. To best serve team members with celiac disease, it is not necessary to provide only certified GF food items (although it is nice to have a few); what is necessary is to provide easily-accessible nutrition information for all food so that everyone can be sure of what they are eating.
In a food service kitchen, it is also crucial to avoid cross-contamination with gluten—like avoiding cross-contamination with nuts for people with nut allergies. This means keeping equipment separate or cleaning it thoroughly between each use. Frequent gluten-spreading culprits include cutting boards, knives, toasters, spatulas/wooden spoons, and even spreadable condiments like butter or mustard. Kitchen employees should also be sure to wash their hands carefully before working with food that will be served as "gluten-free."