If you're an avid runner, the thought of running on the beach may sound glorious. The sand is soft and inviting, the view is gorgeous … but don't be fooled, running on sand is far more challenging than you may think.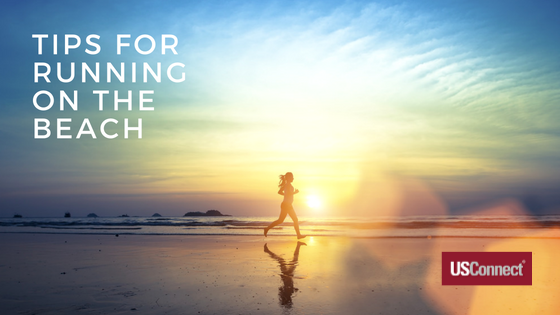 According to active.com, several studies have found that running on sand consumes more energy than running on asphalt—burning as many as 1.6 more calories per mile. There's also much less impact force when you run on sand, but with the added resistance, your heart rate rises faster, and your muscles have to work harder.
If you're planning to run on the beach while on vacation, or if you're lucky enough to live close to the beach, take note of these tips before trading in the pavement for sand.
Run at low tide
Check local tide reports to see when low tide will be before you head out for a run. It's best to run at low tide or within an hour or two around the lowest point. As the ocean recedes, it leaves hardening sand behind that creates a hard-packed surface perfect for running.
Shoes or barefoot?
For your first few beach runs, wear your regular running shoes. It may be tempting to ditch the sneakers and go barefoot, but running without them on new terrain could end up being too much for your feet and cause pain or injury. Sand can also be hard on your ankles, and sneakers will help provide stability. After you do a few runs on the sand and your body gets more used to it, if you want to go barefoot, your feet should be able to adapt. Just be aware of sharp shells, glass, or other debris on the beach that could cut your feet.
Slow your pace
Don't expect to run your average pace on the beach. The change of terrain and lesser impact of the sand will make it feel like your legs are heavier than normal and will become unbearable if you try to run at the speed you're used to. Slow down and enjoy the view.
Slather on the sunscreen
Protect your skin while running with an SPF30 water-resistant sunscreen, and be sure to bring a water bottle to stay hydrated.
Beach running can be a challenging workout. Be sure to take a rest day in between beach runs to let your body recover from this new work out.