Summer is over; the kids are back in school, and parents are back to the arduous task of packing lunches every day. Make your mornings easier, and keep kids satisfied with these simple lunch ideas for a week's worth of healthy meals.
Each lunch packs protein, healthy carbs, and fresh fruits and vegetables, but you can mix and match ingredients based on your kids' taste preferences.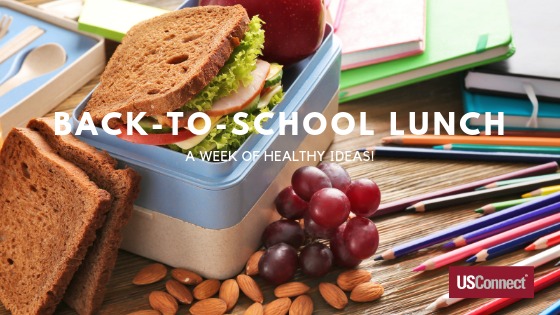 Monday
Deli turkey and ham wrap
Use whole wheat or spinach wraps filled with deli turkey and ham and add garden veggie cream cheese.
Baby carrots and snap peas with light Ranch dressing
Popcorn
Tuesday
DIY chicken tacos
Use leftover grilled chicken from a past dinner, or slice pre-made Rotisserie chicken into small pieces
Shredded cheddar cheese
Salsa
Small container of shredded lettuce and diced tomatoes
2-3 small whole wheat tortillas
Wednesday
Hummus, and pita bread wedges
Grape tomatoes
Apple slices
Pretzel sticks
Thursday
Pizza Rollups
Easy, three-ingredient pizza rolls freeze well, and kids will love them served hot or cold. For recipe, visit https://www.whatlisacooks.com/blog/pizza-rolls.
Fresh berries (strawberries, blueberries, blackberries)
Celery with light Ranch dressing
2 fig cookies
Friday
Yogurt Parfait
Pack in small Bento box (one-serving box) containers for your child to create their own parfait.
One cup plain or low-fat vanilla Greek yogurt
 ½ cup low-fat granola
 ½ cup Cheerios
 ¼ cup blueberries
¼ cup sliced strawberries
Sliced cucumbers and cherry tomatoes