Every October, the entire country turns pink. While it may be pretty, wearing pink or offering pink products does little to educate employees about breast cancer or raise money for the cause. In October, which has become the nation's annual observance of Breast Cancer Awareness Month, your company should develop a plan to provide information and education to employees on breast cancer prevention and early detection, as well as to find meaningful ways to raise funds for breast cancer research. Participating in Breast Cancer Awareness Month can help align your company with a worthy cause if done properly.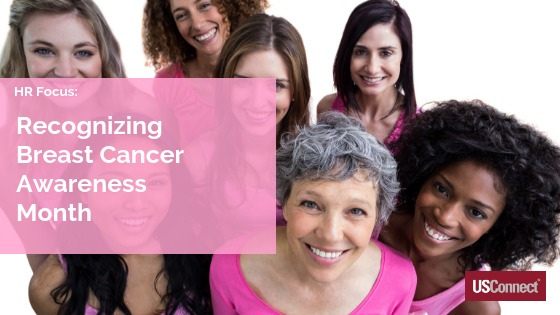 Here are some impactful ways your company can get involved this October:
Provide breast cancer prevention information and educational materials to employees and clients and their families.
Advocate for the cause by being proactive in helping employees take charge of their health. Connecting your company to breast cancer prevention can bring good will to your brand while providing useful information for women. Create a handout (with breast cancer facts, risk factors, mammogram information, and how to perform a self-exam) that employees can take home and use. Or add your logo to these pocket sliders (small interactive slide charts in which you match up the bullet point and view information and tips in the cutout window) available at  https://cdn2.hubspot.net/hubfs/2317504/Pinktober%20Promos.pdf?t=1537766091314.
Share breast cancer facts and prevention tips on your company's social media.
Get creative on Facebook and Instagram by sharing photos and memes with prevention tips and breast cancer facts for the entire month of October.
Share breast cancer and nutrition facts.
There is a lot of misinformation about the causes of breast cancer, especially when it comes to diet. As a food service company, clarifying the connections of breast cancer and diet can have a big impact. Share the facts through educational materials, blogs, newsletters, and social media. A good place to start is https://breast360.org/topics/2017/01/01/breast-cancer-and-nutrition-facts-and-myths/.
Share survivor stories.
Sharing breast cancer survivor stories and photos is also a powerful way to recognize Breast Cancer Awareness Month. If you have employees or clients who are willing to share their breast cancer stories, include their photos and stories in your company's blog and/or newsletter with links to your social media.
Organize a company team for a Breast Cancer Walk/Run or other event.
There are numerous Breast Cancer Walks/Runs and other fundraising events happening in October all over the country. Find a local event and organize a company team to get involved by fundraising and participating the day of the event. At the event, your team can wear t-shirts with your company name and logo and give away promotional products to promote your partnership.