If you're like most parents, you can't resist raiding your child's trick-or-treat bag on Halloween night. Or maybe you're not a parent but can't fight the urge to eat those Fun-size candy bars you are giving out on Halloween.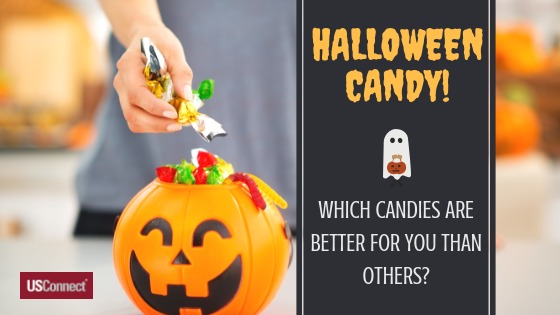 Either way, all that Halloween candy can be really tempting. You can indulge and not completely derail your healthy eating habits by choosing your treats wisely and keeping portions to a minimum. In other words, don't eat a whole bag of Fun-size Twix bars in one sitting! Leave most of the candy to the little ghosts and goblins after you satisfy your sweet tooth with one of these small treats.
Eat this: Fun-size Kit Kat bar
Not that: Reese's Peanut Butter Cup
While both candy bars are high in sugar and calories, that snack-size Kit Kat has 3 grams of fat and 7 grams of sugar compared to a Reese's peanut butter cup that clocks in at 10.5 grams of fat and 6.5 grams of sugar. And who can eat just one?
Eat this: Dark Chocolate
Not that: Milk Chocolate
Dark chocolate contains antioxidants and has less sugar than regular milk chocolate candy bars. Keep portions small though and stick with fun-size options.
Eat this: Sweet Tarts
Not that: Skittles
If hard candy is your weakness, you're better off choosing Sweet Tarts rather than Skittles candies. Sweet Tarts have 2.4 grams of sugar per min-bag while Skittles have a whopping 14.5 grams of sugar per mini-bag.
Eat this: Smarties
Not that: Fun-size chocolate bar
Smarties have only 5 grams of sugar and no fat, while most fun-size chocolate bars contain 7 grams of sugar or more, and 3 grams or more of fat per bar.
Eat this: Jelly Belly jelly beans
Not that: M&Ms
Jelly Bellies have only 35 calories per serving and no fat, but M&Ms (all varieties) are loaded with both fat and sugar.