According to the CDC (Centers for Disease Control and Prevention), more than 30.3 million people in the US have diabetes (that is 9.4% of the US population). And 7.2 million people may be undiagnosed. The count is rising every year.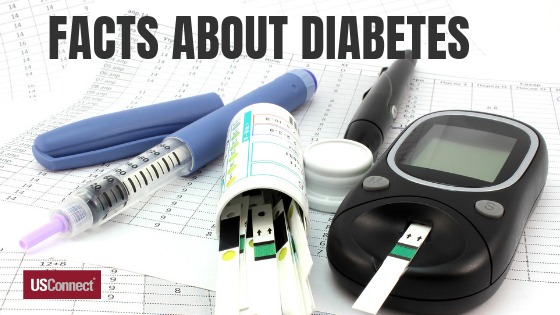 What is diabetes?
Diabetes  is a chronic disease that affects how your body turns food into energy. The insulin hormone, which is made by the pancreas, helps the body turn blood sugar into energy. Blood sugar levels are a measure of how well a person's body uses glucose. A diabetic person has high blood sugar (glucose) when his/her body does not produce enough insulin or because his/her body cells do not respond adequately to insulin, or both.
How are diabetics classified?
Type 1 – The body does not make insulin. It can appear at any age but is usually  diagnosed in children and young adults. Their bodies do not make insulin,  and they must take it to stay alive.
Type 2 –  The body does not make enough insulin or use it well. One can develop type 2 diabetes at any age, but it most often occurs in middle-aged to older people. This is the most common type of diabetes.
Gestational Diabetes – This diabetes type develops in some pregnant women but usually  goes away when the baby is born.  About 50% of women with gestational diabetes go on to develop type 2 diabetes later in life.
Risks for developing diabetes
A person's risk for developing diabetes depends upon a number of factors, some of which can be controlled and some (age, family history, ethnicity) which cannot.
Some of the risk factors that can be controlled are these:
Being overweight or obese
Having high blood pressure
Having a low level of  HDL (good) cholesterol, or a high level of triglycerides
Being physically inactive
Having a history of heart disease or stroke
Having a history of gestational diabetes
Getting an A1C test (sometimes called the hemoglobin A1C) at your next physical will indicate whether you have diabetes or are at risk for developing it. The higher your A1C levels, the greater your risk of diabetes complications. With an A1C level over 6.5 percent, type 2 diabetes is indicated.