We recently shared information about how important breakfast is for maintaining good health and starting your day off in a great mood. Now that you know some of the benefits of not skipping that morning meal, instead of hopping in the car with nothing to eat, here are some simple solutions that will guarantee you have the time to enjoy breakfast even when you are in a hurry.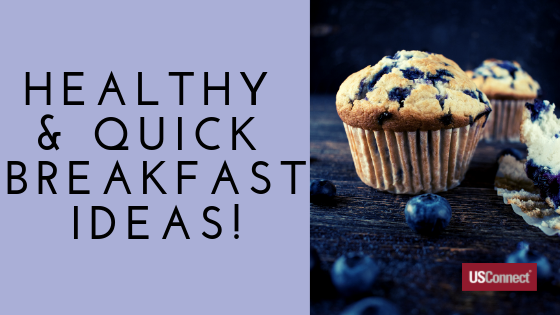 The key here is making something fast. You don't have to sacrifice deliciousness or healthfulness. Below are four of our favorite superfast breakfast options:
Berries and Oats Muffin – in the Microwave!
1/4 cup quick oats
1 egg
Small handful of blueberries
2 Tbsp brown sugar or Stevia
1Tbsp soymilk or almond milk (optional-for more moist muffin)
Put the quick oats, handful of berries, egg, and a sprinkling of brown sugar into a coffee mug. Mix until well-combined, then microwave for 1 minute on high. Take a peek at 45 seconds to prevent it from overflowing, and keep cooking in 30-second increments until the muffin looks firm.
Five Minute Microwave Quiche
1/3 cup shredded cheddar cheese
1/3 cup milk
1 egg
1 or 2 slices bacon or 1/4 cup bacon bits (optional)
salt and pepper to taste
Using a coffee mug, add the egg, 1/3 cup shredded cheddar, 1/3 cup milk, and salt and pepper to taste. You can optionally add some bacon or bacon bits as well. Using a fork or miniature whisk, beat thoroughly to mix well. Cover the mug with a paper towel and microwave on high for 3 minutes or until fully cooked. You may want to add spinach to get an even greater nutritional punch. Just make sure the spinach has had as much liquid removed as possible before adding to the cup.
Peanut Butter Protein Balls
1/2 cup ground flax seeds
1 cup old fashioned oats
1/2 cup semi-sweet chocolate chips
2/3 cup creamy peanut butter
2 tablespoons honey
These delicious little snacks are easy to make and their decadent flavor will make you feel like you are able to eat dessert for breakfast. The no-bake, super easy recipe is packed with fiber, healthy fats, and protein. With only five ingredients, this recipe means you have no more excuses not to eat breakfast!
Combine all ingredients in medium bowl. Stir until well combined. Refrigerate for 15-30 minutes to make them easier to roll. Roll into balls.
These may be stored in the fridge for up to a week if you can get them to last that long. Good luck with that!
Fifteen-minute Italian Baked Eggs 
With 5 minutes to prep and 10 minutes to bake, you can toss these babies in the oven and finish getting ready while they cook.
1 cup marinara sauce
4 large eggs
1/4 cup fat free or lowfat milk
1/4 cup shredded gruyere cheese
2 tablespoons freshly grated Parmesan
Kosher salt and freshly ground black pepper, to taste
1/4 cup basil, fresh or dried
1. Preheat oven to 425 degrees F.
2. Lightly coat 2 10-ounce ramekins with nonstick spray or oil.
3. Pour marinara sauce into ramekins in even portions.
4. Add milk, both cheeses, and eggs. Season with salt and pepper to taste.
5. Bake until egg whites are cooked through and opaque, approximately 10 minutes.