It's always impressive when your waiter or waitress presents you with a plate of food that looks too pretty to eat. Many chefs say "we eat first with our eyes (saying attributed to an ancient Roman gourmet)." Have you ever noticed that the more enticing dishes tend to be visually appealing due to the variety of foods and colors displayed?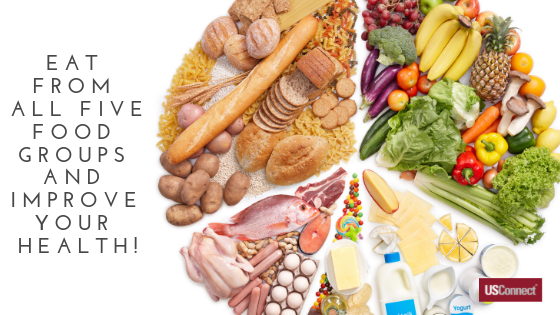 It's hard to get that same mouth-watering effect when you have just one thing on the plate. Likewise, the greater variety of food groups you consume, the better the chance you are getting  sufficient quantities of vitamins and minerals from your meals.
According to the USDA Center for Nutrition Policy & Promotion(CNPP), an organization established in 1994 with the objective of educating and encouraging dietary guidance for all Americans, we should be following the MyPlate.gov model in order to make better food choices and eat healthfully.
The MyPlate model replaced the MyPyramid and the Food Guide Pyramid in 2011, and many people find it much easier to follow. Instead of a pyramid shape, the MyPlate image is designed to look like a place setting, with each of the five food groups displayed in the proper proportions on the plate. It is easy to understand and remember the right ratios of foods we should be eating when contemplating this visual tool.
The reason it is so important to eat from a variety of different foods is that each kind of food has different types and amounts of key vitamins and minerals. If you eat too much of one and not enough of another, you may find that you are lacking in some key nutrients, and over time, this may have a negative consequence for your health. In addition, choosing a variety of foods keeps your meals interesting so you won't  become bored with your diet plan.
According to the MyPlate Plan, half of our plate should consist of vegetables and fruits, while the other half should be protein and grains. The portion given to veggies is a little bigger than that allotted to fruit, and the portion given to grains is slightly more than that for protein. On the top right of the image is a little circle as though for a drink. This is the dairy group and indicates the proportion of dairy we should have relative to all the other food groups. It is a slightly smaller area than that given to fruits.
The balanced diet presented in the MyPlate Plan is an ideal framework for healthy eating that is easy to remember and follow when creating meals at home or choosing what you want in a cafeteria or restaurant. Take a look at the MyPlate Plan visual tool.
The MyPlate image is not the only helpful tool provided by the CNPP to show you how much of each food group to eat; you can even get a personalized plan specific to your gender, height, weight, and activity level to help you ensure you are eating the right foods in the right quantities. Just go to: https://www.choosemyplate.gov/MyPlatePlan.