When the days grow longer and become warmer, we all feel like breaking out of our winter ruts and changing our routines.  While you are spring-cleaning your house, why not spring-clean your mood as well? We have some ideas that can help you get healthier and put the winter blues behind you.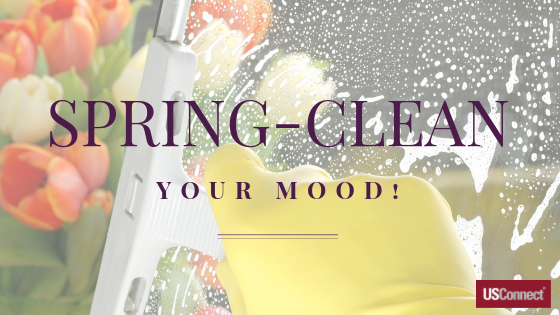 Bring Nature Inside
Find some fresh flowers in the garden or cut some beautiful foliage to put in a vase. The flowers will bring color into the house, and you can enjoy their sweet fragrance as well. According to Deborah Serani, a psychology professor at Adelphi University and author of Living with Depression, "Studies show that having greenery in your life reduces stress, reduces depressed mood, improves attention and concentration, reduces high blood pressure, and creates an atmosphere of beauty.  Adding plants and flowers works wonders for your well-being."
Aromatherapy has become quite popular as a way to enhance mood, and the natural aromas flowers bring can be just as effective as oils. Not only do they provide a pleasing look and scent, but having plants in the house also raises the oxygen levels as well, making the air healthier and easier to breathe.
Remove Clutter to Revitalize
Getting rid of things no longer of use to you not only improves your living space, but it is beneficial for your state of mind as well. A cluttered space can induce stress and anxiety. Mary Jo Kreitzer, RN, Ph.D, said, "Since the earliest times, humans have needed to be sensitive to their surroundings to survive, which means that we have an innate awareness of our environment and seek out environments with certain qualities." She elaborated that humans tend to seek out places where we can feel safe and secure—without too much stimulus—and places that provide physical comfort as well.
Your psychological comfort is affected by your surroundings. It is important that you let go of things you really don't have room for, to keep your space uncluttered and soothing. As you sort through the things you truly want and need versus things that are only cluttering up your space and your life, you hone your identity and begin to understand what is truly important to you. This can bring joy and a sense of tranquility.
Rearrange for a New View, and a New You
Simply rearranging your furniture can be a major mood enhancer.  When moving into a new home, many of us will just put our couches and tables into whatever arrangement seems obvious. There are often other arrangements we never consider which could create a much better flow of energy in a room. The positioning of furniture can have a huge impact on your mood and on your enjoyment of your living space.
Omar Elbaga suggested on TinyBuddha, "Balance is more important than symmetry. The rule of thumb is to think outside the box and don't decorate in the most obvious way." Try turning your couch at an angle, with chairs positioned for easy conversation. Or, if you have the couch in the center of the room, experiment with pushing it up against a wall. You can often make a room look bigger just by the way you arrange the furniture.
According to Psychology Today, by rearranging your furniture, you can elevate your mood and instill satisfaction, effectiveness, comfort, and creativity. This is another way that you can spring-clean your way to better health.
Make the Most of your Mow…
Now that Spring has sprung, we must deal with fast-growing grass and weeds in the yard. While we tend to think of yard work as a chore, it is also a great opportunity to get some good exercise. You may want to opt for a push-mower instead of a riding mower and let working in the yard count as your daily exercise.
While the physical health benefits of exercise are reason enough by themselves, we also get the added boost of mood improvement from regular exercise. Exercise increases serotonin, which helps your brain to regulate sleep, appetite, and mood; overall, exercise helps alleviate chronic depression. Exercise also reduces certain chemicals in the immune system which can worsen depression.
A recent study has linked routine physical exertion with improvements in memory in older adults. We do a lot of bending and lifting when we work out in the yard, so spring cleaning outside offers an amazing amount of unexpected benefits. Fitness guru Jillian Michaels says that gardening "can burn up to 256 calories an hour, and lawn mowing 160 calories per half-hour."
So, when you look out your window at the overgrown grass and the dandelions, instead of thinking of mowing it as a chore, think of all the good you are doing for your body, mind, and mental health by "spring-cleaning" your mood while you mow.