Experiencing changes in our bodies as we get older is expected; some we dread and try to prevent, and others we wear as a badge of honor.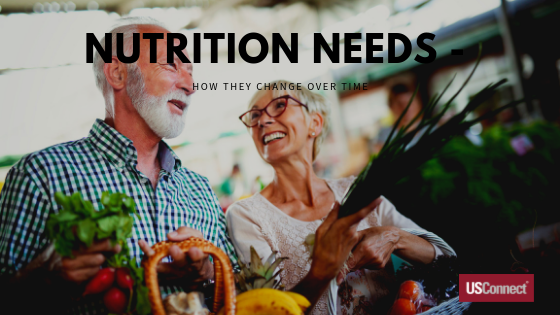 As we advance in years, we experience changes in the amount of sleep we need, how quickly we feel full when eating, how quickly we heal, and our ability to see, hear, and even taste. Our risk for injury goes up, and we have a decline in immune function. Some changes, we can't control, but the good news is that some we can control and taking the initiative to educate ourselves and make the right choices can have a profound effect on our total health and wellness, and even our longevity.
Nutrition is a vital element of overall health and affects the entire process of aging. Nutritional status in older adults has become increasingly recognized for its connection with many morbid conditions such as heart disease, dementia, and cancer.  A great nutritional status can prevent some chronic and acute diseases and impacts the ability to heal.
Unfortunately, malnutrition is regularly diagnosed among older individuals in spite of the fact that it is often preventable. One common change many people undergo is a declining appetite, and when you consider that older adults have the same or greater nutritional requirements than they did when young, you begin to see the problem. The quality of the food we are eating is extremely important as we enter those golden years.
Physical changes older adults experience can result in nutrient deficiencies.  A decreasing quantity of stomach acid reduces the ability to absorb vitamin B12, calcium, magnesium, and iron which further indicates the importance of getting enough of those nutrients.
Older adults should ask their doctors if vitamin supplements might be necessary to help prevent dietary deficiencies. Also, to increase these critical vitamins, consider eating these foods that will boost B12, calcium, magnesium, and iron:
Foods Rich in Vitamin B12
Eggs
Beef, chicken, and liver
Fish and shellfish – salmon, tuna fish, trout, and clams
Fortified breakfast cereal
Foods Rich in Calcium
Cheese (Parmesan is very high in calcium)
Yogurt
Milk
Sardines and canned salmon
Beans and lentils
Dark leafy greens (spinach, kale, collards)
Fortified food and drinks
Foods Rich in Magnesium
Avocados
Legumes (chickpeas, black-eyed peas, lentils, soybeans, black and white beans, kidney beans, peanuts)
Bananas
Seed (pumpkin seed, chia, sunflower seed, flax seed)
Nuts (Brazil nuts, almonds, cashews, pine nuts, pecans, pistachios,)
Dark Chocolate
Fatty fish (salmon, albacore tuna, mackerel, halibut)
Tofu
Whole grains
Foods Rich in Iron
Beans (kidney, lima, navy)
Tofu
Lentils
Molasses
Spinach
Whole wheat bread
Peanut butter
Brown rice
Dark chocolate
To ensure that older adults are eating well-rounded diets, it is vital for them to choose a variety of whole foods that are rich in nutrients rather than high in calories. Lean meats, fish, eggs, low-fat dairy foods, whole-grain breads and cereals, nuts and seeds, legumes, fruits and vegetables should be chosen over foods like white bread, biscuits, and desserts such as pie, cookies, cake, and candy.
Consumption of sweet tea and fruit juices, as well as soft drinks, also needs to be minimized. Older adults may be less able to recognize hunger and thirst which can lead to dehydration and unintentional weight loss. Adult children can help by monitoring or helping their aging parent(s) to track how much they are eating and drinking each day.
Getting older does require more attention to our choices and overall lifestyle, but by staying informed and taking the right steps for our bodies, we can enjoy optimum health at any age.