Back-to-school is a busy time for any family, and it's possible for important activities to fall by the wayside in the rush to get everyone ready and out the door on time. One of the first things to fall through the cracks is healthy eating. It's all too easy to pack instant meals for your child's lunch as opposed to nutritious meals, and that's especially true if you're trying to get everything ready on the fly. Instead of falling into this habit, consider these meal-planning tips to streamline the food preparation process and keep everyone happy and well-fed.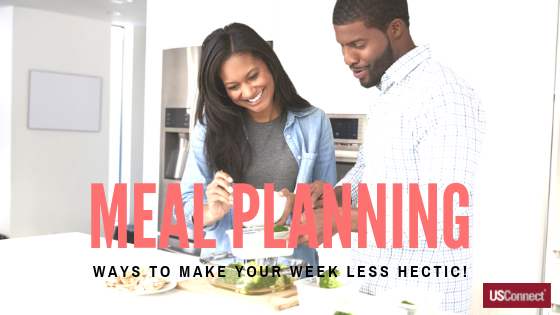 Schedule Your Meals
Create a meal plan for every day of the week. Note that this doesn't necessarily mean you have to cook something every day;  sometimes it's just more practical to pick something up. But planning ahead gives you the opportunity to scope out smarter food choices for quick takeout than a fast food restaurant. Additionally, planning your meals out in advance gives you more time to determine when you'll actually cook them and how to store them effectively for long-lasting freshness.
Prepare the Night Before
Instead of waiting until morning to prepare lunches, have your children help you make and pack their food the night before. This gives you more time to find healthy options while giving your child a sense of responsibility for themselves and the food they eat. This is a great chance to teach them healthy food preparation rules as well as the importance of good nutrition. And the morning will be a much less stressful experience when all you have to do is grab a packed lunch from the refrigerator and send your children on their way.
Plan Breakfast, Too
One of the biggest time-wasters parents encounter each morning is waiting for their children to decide what they want to eat for breakfast. Unless they are old enough to prepare their own food, don't give your children too many choices. Have one or two options that are easily prepared, and you'll find the morning moves more smoothly, and your children receive consistently healthy meals before they head off to school.
Keep It Simple
Is it tempting to try your hand at a complicated meal that consists of roughly 20 different ingredients and takes two hours to make? Well, for some us, the answer might very well be "yes." Chances are good, however, that this isn't a smart choice. Do you really have time to create a complicated dinner every night after work? Instead of picking complicated dishes that can take a while to prepare, keep it simple during the week. Opt for meals for breakfast, lunch, and dinner that can be prepared quickly and offer all the nutrition you need. For school lunches, this can consist of wraps, cheese cubes, fruit, and hummus with pita bread.
Making healthy food doesn't have to be a difficult task. Streamlined meal preparation tips can help make it an easy and fast process. With these tips in mind, start making delicious food for your family even during the most chaotic of times.