Some people increase the amount or intensity of the exercises they do whether it is workouts, running, etc., following the old theory that "more is better" and that they will improve their health even more by doing more.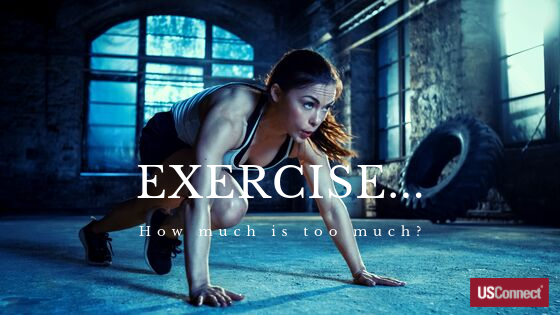 The US Department of Health and Human Services guidelines for physical activity recommends that adults get at least 21/2 hours of moderate-intensity aerobic activity each week or 75 minutes of vigorous aerobic activity or a combination of both. It also recommends resistance training or weight training at least twice each week.
What are moderate-intensity activities? They are those that get your heart rate up and make you breathe harder than normal, but during which you can still talk. Some activities in this category are brisk walking, water aerobics, biking (slower than 10 mph), and light gardening. High-intensity activities are activities such as running, jumping rope, swimming laps, biking (faster than 10 mph), and heavy-duty yard work like digging.
Watching television programs such as American Ninja Warrior and seeing the high-intensity challenges the athletes overcome can certainly make you feel inadequate when it comes to exercise and fitness. But working out too hard and for too long can damage your body. It would be nice to be able to look into a glass that projects the future and see how the work-out obsessed fare health-wise after years of this kind of intensity.
Many of us may feel guilty that we don't exercise more, but there is good news if you are a moderate exerciser. In a study of more than one million women in the UK in 2015, it was found that those women who reported moderate physical activity had significantly lower risks of developing coronary heart disease, cerebrovascular disease (which can lead to hemorrhaging, blood clots, and stroke), and embolisms, while those women reporting strenuous daily physical activity had higher risks of developing these same diseases.
In a large Danish study which compared the death rates of runners, it was found that light and moderate runners have lower mortality rates than nonrunners (or sedentary people), whereas strenuous runners have a death rate much like that of the sedentary group. However, other studies found, as would be expected, that those who are sedentary and do not exercise at all are at the greatest risk.
Since these studies were observational only, they can demonstrate only correlation, not causation.
Excessive endurance exercises done daily can harm the body by depressing the immune system and increasing the risk of injuries, as well as increasing inflammatory processes. Taking a day or two off weekly gives the body time to recover from the stress of exercise. Also, some studies of endurance athletes have found coronary changes that may increase the risk of arrhythmias, sudden death, and other problems.
Some medical experts disagree with these studies. Dr. Wael Jaber, a cardiologist at the Cleveland Clinic, (with a team of researchers) tested the link between large amounts of aerobic exercise and lifespan in 122,007 people and found that "Extremely high aerobic fitness was associated with the greatest survival and was associated with benefit in older patients and those with hypertension."
A well-lived life is about balance, and we are all happier and more fulfilled when we can achieve balance in all areas of our lives. This is true when we apply it to the time we spend exercising to be healthy. For those who are worried that they must intensify their exercise just to maintain health, the takeaway from this is that there is a great health benefit in exercising, but you don't have to keep increasing the amount or the intensity of it to stay healthy.