The only thing truly scary about Halloween is the potential weight gain from indulging in all of the candy and treats this time of year. While a few nibbles here and there aren't likely to do much damage, those yummy bite-size candies you steal from your little goblin's Halloween bag can really add up when it comes to calories. And who can eat just one fun-size Snickers or mini-Reese's Cup?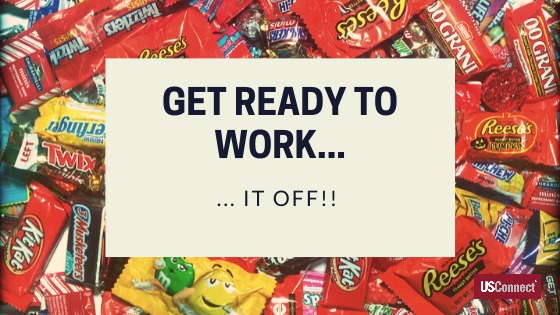 But have no fear! By stepping up your exercise routine, you can burn off those spooky snacks so you aren't haunted by those creepy calories for months to come.
Here is how much exercise you'll need to do in order to burn off the extra calories from your favorite Halloween treats.
Fun-size Kat bar (3 pieces/210 calories): Run 20 minutes or walk at a moderate pace for one hour.
Reese's Peanut Butter Cup (1 individual cup/105 calories): Cycle for 25 minutes or swim laps for 15 minutes.
Fun-size Almond Joy (1 bar/80 calories): High-impact aerobics class for 15 minutes, 30 minutes of yoga or 15 minutse of golf.
Fun-size Snickers bar (2 bars/160 calories): 45 minutes of weight training or yoga class for one hour.
Fun-size M&Ms (3 mini-packs/180 calories): Cross-country hiking for 30 minutes or go dancing with friends for 30 minutes.
Fun-size Hershey's Chocolate bar (1 bar/77 calories): 10 minutes of racquetball or jump rope slowly for 10 minutes.
Fun-size Whoppers (2 bags/60 calories): 10 minutes on trowing machine or take a one-mile slow jog.
Candy Corn (20 pieces/140 calories): Walk at a brisk pace for 35 minutes or play ping pong for 30 minutes.
So eat, drink, and be scary this Halloween. Just remember to be mindful of how many handfuls of those mini-chocolate bars you're eating so you don't over-boo it!
Happy Halloween!