Boost Your Immune System With These Healthy Foods.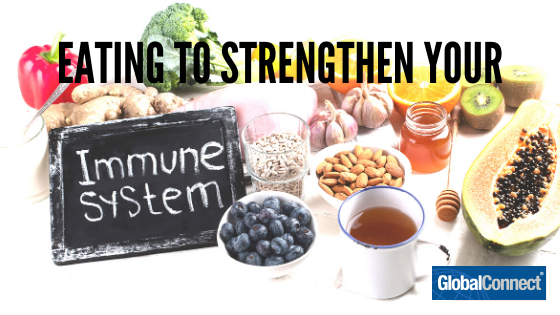 Winter is prime season for colds and flu, and while there are lots of practical things you can do to reduce your risk of getting sick, such as washing your hands and getting enough rest, eating well also plays an important role in keeping your immune system healthy. Eating an overall healthy diet on a regular basis is one of the best things you can do for your overall health, but there are also several foods that have specific qualities that can boost the immune system that you may want to add to your diet, especially during flu season.
Help protect yourself from infections by incorporating these superfoods into your diet.
Blueberries – Blueberries contain a type of flavonoid called anthocyanin, which has antioxidant properties that can help boost your immune system, particularly the respiratory tract's defense system. Research has found that people who ate foods rich in flavonoids were less likely to get colds and other upper respiratory tract infections.
Garlic – While garlic has long been used as a home remedy to prevent common colds, some research has suggested that eating foods that contain the herb may help reduce the number of colds a person gets every year.
Green tea – Like blueberries, green tea contains flavonoids that may reduce the risk of viral infections. Green tea only contains a very small amount of caffeine so it can be safely consumed or substituted for coffee or black tea.
Oranges – Oranges are an excellent source of vitamin C, which is what many people are already familiar with to help prevent or treat a cold. While scientists are still not sure exactly how it helps, vitamin C may reduce the duration of common cold symptoms and improve the function of the immune system. Other citrus fruits, fruit juices, and some vegetables, such as red peppers, that contain vitamin C can also be beneficial to keeping germs away.
Nuts, seeds, and nut butters – Certain nuts are high in vitamin E, which is another antioxidant that strengthens your immune system. Nuts such as almonds, hazelnuts, and sunflower seeds, and peanut butter are good sources of vitamin E.
Turmeric – Turmeric is a yellow spice used in cooking and has also been used in alternative medicine. Its main ingredient, curcumin, is believed to lower the risk of many diseases, such as heart disease, cancer, and diabetes. It's action as an anti-inflammatory and antioxidant strengthens the body's immune response.
Spinach – Spinach is a super food that contains vitamins C and E as well as flavonoids and carotenoids, all of which can boost your immune system.
Kefir – Kefir is a fermented drink that contains live cultures of bacteria that are beneficial for health. Several studies have shown it can fight off bacteria, reduce inflammation, and increase antioxidant activity.
Adding these foods to your diet may help strengthen your immune system and reduce your risk for colds and viruses, but eating a balanced, healthy diet along with good lifestyle choices such as exercising, not smoking, and getting enough sleep will go a long way toward keeping you healthy year-round.