If you're a woman of a certain age, you may already be feeling some of the symptoms of hormonal changes, even if you haven't officially gone through menopause yet. The time leading up to menopause is a transition known as perimenopause and can start anywhere from a woman's late 30s to mid-40s. This stage can last from five to ten years until you go through actual menopause. Menopause is defined as the absence of a menstrual period for 12 consecutive months.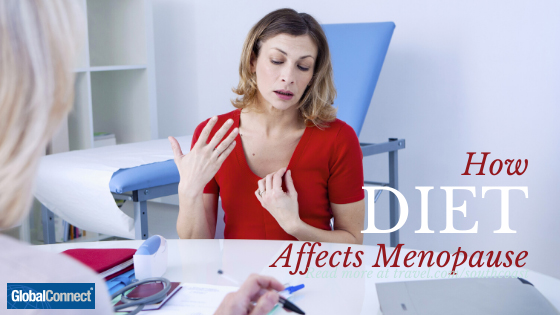 As a woman goes through the hormonal changes of perimenopause and menopause, she may experience some unpleasant and uncomfortable symptoms including hot flashes, night sweats, mood changes, insomnia, and irregular periods. Women may also gain weight or find that they cannot lose weight as easily as when they were younger.
Menopause also occurs at a time in a woman's life when her metabolism is already slowing down as a normal part of aging, so this tendency to gain weight is a bit of a double whammy. As if this were not enough, women are at a higher risk for diseases including osteoporosis, heart disease, and type 2 diabetes after menopause.
But the news is not all bad! There are lifestyle changes you can make to ease the symptoms of menopause, prevent weight gain, and reduce your risk for developing certain diseases. One of the key ways to do all of this is through diet and nutrition.
1. Increase Your Intake of calcium and vitamin D.
The loss of estrogen that comes along with menopause can weaken bones and increase the risk of osteoporosis. Both calcium and vitamin D are essential nutrients that protect your bones, so eating foods rich in these nutrients daily can help lower your risk of osteoporosis. You can get adequate calcium from dairy foods such as milk, yogurt, and cheese, as well as from green, leafy vegetables like spinach, kale, and collard greens. There are also lots of calcium-fortified foods such as cereal and juices that can boost your calcium intake as well.
Vitamin D is equally important,  and the best way to get enough is by spending a short time outdoors daily to get natural vitamin D from the sun. If you don't spend much time outdoors or have had skin cancer or are at a high risk for skin cancer, you can also talk to your doctor about vitamin D supplementation. It's also found in oily fish, eggs, and foods such as milk or juice that are fortified with vitamin D.
2. Maintain a healthy weight.
Weight gain is common during both perimenopause and menopause, and women tend to gain excess body fat around their waists, which increases the risks for developing heart disease and type 2 diabetes. Women who are heavier also tend to experience worse menopausal symptoms. One study found that women who lost at least 10 lbs. or 10 percent of their body weight over the course of a year were more likely to eliminate hot flashes and night sweats.
3. Eat your veggies and fruits.
A diet rich in varied fruits and vegetables has been shown to prevent a number of menopausal symptoms. Additionally, fruits and vegetables fill you up and keep you from overeating more unhealthy foods, which can lead to weight gain. They may also help prevent diseases, particularly heart disease (which can be a higher risk after menopause), and help maintain bone health.
4. Avoid trigger foods.
There are certain foods that can trigger hot flashes, night sweats, and mood swings, especially if eaten at night. Caffeine, alcohol, sugary foods, and spicy foods seem to be the biggest trigger foods for worsening menopausal symptoms.
5. Eat enough protein.
Getting enough protein in your diet can help prevent the loss of lean muscle mass that occurs with age. Focus on lean meats, poultry, fish, eggs, legumes, nuts, and low-fat dairy foods.
In addition to eating a healthy diet, regular exercise can help ease menopausal symptoms and help maintain a healthy weight.