Many offices around the U.S. have created office pantries as a benefit for employees, while others have not yet embraced this new trend. Research has shown that an office pantry offers many advantages in addition to providing snacks and drinks for employees; in fact, several studies have shown that office pantries improve employee productivity, increase employee morale, and foster a feeling of inclusivity.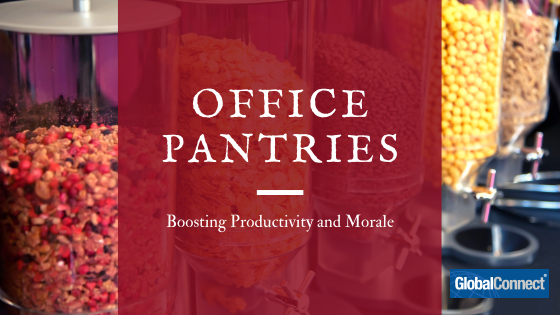 Office pantries are communal areas where employees can gather to relax and take a break from work. Well-equipped office pantries offer complimentary coffee, drinks, snacks, a microwave, refrigerator, and other items of convenience. They cut down on the need for employees to leave the office to grab a coffee or snack and can offer healthier options than some traditional vending machines.
Fostering Positive Workplace Culture
According to a survey by the Australian Institute of Business, 73 percent of respondents said a full pantry would make them feel happier at work, and 57 percent thought it would boost employee morale. The office pantry serves as the center of the office community and can foster relationship building, bonding, and collaboration. These positive benefits can lead to employees feeling an increased sense of personal belonging to the company.
Additionally, according to Staples Business Advantage, 53 percent of office employees think that a well-stocked pantry contributed to their perception of an inclusive office culture. Employees felt the office pantry demonstrated that the company cared about their welfare and valued their work. According to Inc. Magazine, 60 percent of working professionals mentioned that having free snacks in the office makes them feel "valued and appreciated."
Increased Employee Productivity
Studies have shown that providing a well-stocked pantry improves employee productivity. It ensures that workers are kept well-fed, refreshed, and satisfied. After all, hungry employees will not perform at their best. In a study, 57 percent of working professionals stated that they buy their own snacks and beverages at work, and one in two employees reported leaving the office to get coffee or a snack at least once per day and sometimes up to five times per day.
When employees had access to nutritious snacks close by in a central office pantry, it helped make them more productive and better focused on work—cutting down on trips to nearby coffee shops or convenience stores to get snacks or coffee. Additionally, by having a convenient place to grab a snack or heat up a lunch brought from home, employees may not need extended lunch breaks, thus allowing for more flexible work schedules.
Stocking An Office Pantry
Setting up an office pantry is fairly simple. Most offices already have some sort of kitchen area that you can add to, or you can designate another area as the office pantry. Offering a couple of small tables and chairs where employees can sit and relax on breaks is also a plus.
There are a few things every office pantry needs:
A source of caffeine – Offer a coffee maker and kettle for tea as well as providing complimentary coffee, a selection of teas, milk or creamer, sugar, and packets of artificial sweeteners.
Snacks – Offer a variety of non-perishable, healthy snacks such as fruit or dried fruit, packets of nuts, crackers, granola bars, and pretzels. Individually packaged items work best.
Drinks – A well-stocked fridge is also a nice addition for employees to have access to soft drinks, juices, bottled water, and energy drinks.
Microwave – Providing a microwave is helpful for employees who prefer to bring lunch from home; they can quickly heat it up and eat at their desks.
Supplies – Be sure to provide and regularly restock items such as napkins, paper plates, plastic cutlery, and paper cups.
If you're interested in adding an office pantry to your business, we have helped many companies do this and would love to help you get started!