When they hear the word "diet," most people envision a complete overhaul in their way of eating. They usually try restricting all the foods they enjoy and inevitably end up feeling deprived. It's why most diets fail. Such restrictive eating cannot be sustained for the long term. But in order to lose weight without feeling deprived, and to ensure you are getting the proper nutrition your body needs, making small, consistent changes works better than trying to maintain any sort of restrictive diet plan or trying to make big changes all at once.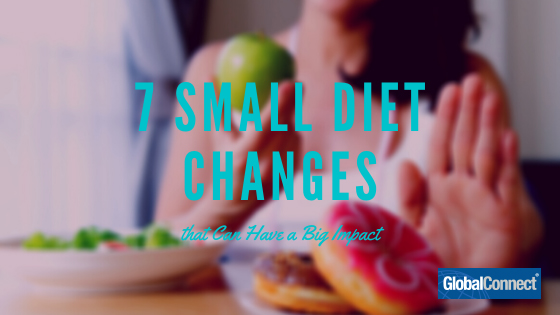 Making small changes to your diet that are both realistic and sustainable can have a big impact on your overall health. These minor changes won't produce immediate results when it comes to weight loss, but if you add them to your daily life and stick to them, you will notice the health benefits, which will encourage you to keep making more small changes that will all add up to big payoffs in the long run.
Here are seven small changes you can make to your daily diet that will be beneficial for your health and help you in your weight-loss journey. Try making one small change at a time. After you have been able to stick with it for a week or two, then try making another change, and so on.
1. Don't skip breakfast.
Research has shown that people who regularly eat breakfast are more successful in losing weight and keeping it off. If you're pressed for time, breakfasts such as a whole wheat English muffin topped with peanut butter and banana, or low-fat yogurt with fresh berries and granola, or instant oatmeal, are quick choices that offer lots of protein and fiber to keep you full until lunch.
2. Trade refined grains for whole wheat grains.
An easy switch to make is choosing whole-grain bread, rice, or pasta instead of refined products. Always read labels to make sure breads and other products are made only with whole grains and not a mixture of refined and whole grain—whole wheat flour should be the first ingredient listed.
3. Eat fruit, don't drink it.
Fruits are full of fiber, vitamins, and antioxidants, but you only get these health benefits when fruits are eaten in their whole form, not in a juice. Plus, fruit juice almost always has added sugar and is often not even made from real fruit.
4. Cut out sugary drinks.
You've heard it before, but one of the easiest changes to make that will not only help with weight loss but will also make you feel better is cutting out sugary beverages like soft drinks, energy drinks, and fruit juices. Replace them with plain water, sparkling water, or even sugar-free beverages if you can't kick the soda habit for good.
5. Skip the Starbucks.
Coffee on its own can be healthy because it contains antioxidants. But most coffee drinks purchased at popular coffee bars and restaurants are essentially desserts. Those fancy coffee drinks may taste delicious, but they're loaded with sugar, sweeteners, syrup, milk, and/or heavy cream. Try drinking black coffee instead and adding just a small amount of low-fat milk.
6. Increase protein.
Add protein to all of your meals and snacks to help you feel full and to curb cravings. Smart choices include lean meats, eggs, low-fat dairy products, beans, peanut butter, and nuts in small portions.
7. Swap unhealthy oils for healthy oils.
Cooking oils such as vegetable oil, canola oil, and soybean oil are highly processed and high in "bad" fats. Instead, choose extra-virgin olive oil, coconut oil, or avocado oil that contains  healthy (the "good") fats—omega-3 fatty acids.
By taking baby steps in revamping your diet, you'll be more likely to stick to it and be successful.