When it's hot outside, having a heavy, hot meal doesn't always sound appealing. Salads can be a refreshing, filling, and nutritious choice for lunch or dinner on sweltering summer days. There are so many delicious options for salads that go beyond basic iceberg lettuce!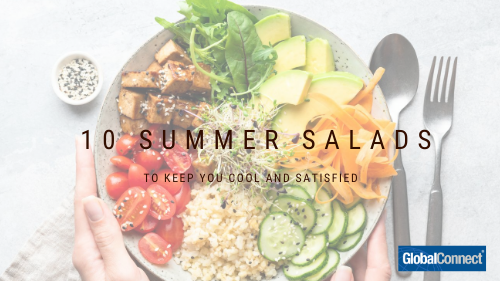 Below you will find recipes for fresh summer salads that take advantage of seasonal vegetables and fruits and are easy to make. Serve salads as a side to your main dish or add a protein such as grilled chicken, shrimp, tofu, or steak to any salad to make it a main course.
Tomato, Peach, and Basil Salad
Use seasonal peaches and nectarines combined with feta cheese to create a sweet and savory salad.
Charred Shrimp and Avocado Salad
This light salad has a tropical taste with pineapple, shrimp, and avocado mixed with cucumber and watercress.
New Greek Salad
A twist on the traditional summer salad of tomatoes, cucumbers, red onion, and feta cheese, combined with Kalamata olives and croutons made from olive bread.
Cobb Salad with Grilled Chicken
Another summer favorite, this Cobb salad includes avocado, tomatoes, feta cheese, and crumbled bacon. Add grilled chicken or rotisserie chicken for an even quicker meal.
Grilled Watermelon Salad with Steak and Tomatoes
Watermelon is a summer staple that when grilled with steak creates a juicy flavor and satisfying meal.
Arugula, Melon, and Prosciutto Salad
A sweet and salty salad with cantaloupe, arugula, and prosciutto served with a red wine vinaigrette.
Grilled Chicken Mango Salad
Grilled chicken is cooked in mango cilantro dressing and combined with avocado, cucumbers, peppers, and romaine lettuce—finished off by more mango cilantro dressing.
Garbanzo Bean Salad with Dill Dressing
Protein from chickpeas and fiber-rich beans and veggies make this salad a filling meal.
Strawberry Summer Salad
A refreshing blend of spinach, strawberries, sliced red onion, chopped nuts, and feta drizzled with strawberry vinaigrette dressing.
Summer Caprese Salad
This summer classic is made with fresh summer tomatoes, fresh mozzarella cheese, and fresh basil seasoned with olive oil.