When you think of high-impact exercise, activities like running or aerobics may come to mind, while exercises like walking or cycling are considered low-impact activities. The difference is that low-impact exercise is easier on your joints than high-impact activities. Both types of exercise are important to overall fitness, but determining which one is better is really a matter of your personal needs and abilities as well as your fitness goals.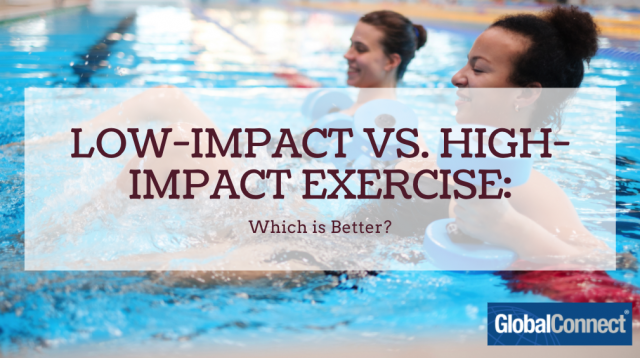 Low-Impact Exercise
Any types of exercise or activities that are gentle on your joints and involve more fluid movement and keeping one foot always on the ground or on equipment are considered low impact. Examples include walking, cycling, swimming, yoga, Pilates, and using an elliptical machine.
Low-impact exercises are great for beginners, those with joint problems or arthritis, and for athletes who are recovering from an injury. Some people like to participate in low-impact exercise on days when they're taking an "easy" workout day to aid in recovery from harder, higher-impact workout days.
If you're trying to lose weight, you can still burn fat with low-impact exercise just as you can with higher-impact exercise. The key is to perform low-intensity activity for a prolonged period of time. As opposed to high-impact exercise that burns fat in short, intense sessions, to get the same benefits from low-impact exercise, you'll need to do longer sessions. Working out a steady pace at 70-80 percent of your maximum heart rate for 30 to 60 minutes will get you into a fat-burning zone with low-impact workouts.
High-Impact Exercise
High-impact exercise is harder on your joints and involves both feet leaving the floor at the same time. Examples include running, jumping rope, and plyometrics (exercise that involves repeated rapid stretching and contracting of muscles ). High-impact exercise is one of the best ways to burn fat—your heart rate is naturally up because you're jumping around more, which gets your body into fat-burning mode faster.

This type of exercise also improves fitness levels, strengthens your heart and lungs, and strengthens bones. However, it can also lead to injuries more easily or be painful for people with joint problems or arthritis. High-impact exercise may also be harder for people who are overweight or obese.
If you are trying to lose weight, high-impact exercise will yield faster results than low-impact training, but it's not for everyone. Some people don't enjoy the jarring nature of running or high-intensity interval training (HIIT), and some people's joints cannot handle that much impact.
Which is Best?
Deciding whether low-impact exercise or high-impact exercise is best for you is a matter of personal preference as well as your fitness levels and any health issues you may have. Those new to exercise should definitely start more slowly with lower-impact workouts until fitness levels improve to reduce the risks of injury, as well as to make it more enjoyable and sustainable.

Once you've been exercising for a while, working in some days of high-intensity activities will likely produce better weight loss results if that is your goal. It will also improve your fitness level. Alternating days of low-impact and high-impact activities can be a good way to vary your workouts and reduce not only your risk for injury but also reduce boredom, which will make you more likely to stick with a regular exercise routine long term.