Being away from home or traveling is not a reason to lose the gains you have made by starting an exercise/fitness routine. Here are more ways to continue to maintain your exercise goals.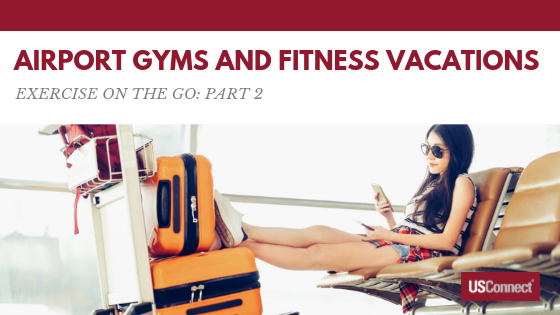 At Airport Terminals
If you have a long layover at an airport, you can walk laps around the inside of the terminal (wear or pack walking shoes in your carry-on luggage). You can leave your luggage at the lost luggage counter (the most common place to leave it since they have the necessary storage space there), and the attendants will keep an eye on it for a daily fee. Many airports also have coin-operated luggage lockers.
If you are one of those people who aren't motivated to exercise when traveling unless it is in a gym-type setting around others who are working out, you will find more options than you might expect. Fitness/workout centers are not as lucrative for airports as restaurants and stores, but that may be changing. These pioneers in US airport gyms are among the best available to work out while you wait for your flight:
Dallas/Fort Worth International Airport – Features free 24-hour Yoga studio with free use of yoga mats and a looping DVD with instruction as well as a LiveWell Walking Path (measuring seven-tenths of a mile) and includes two 55-foot high staircases for an extra cardio challenge. (In Terminal D)
Detroit Metropolitan Wayne County Airport – The Westin WORKOUT Fitness studio in the Westin Hotel is connected to the World Gateway Terminal in the Delta hub. Non-hotel guests can use the gym for a modest fee and rent shoes, t-shirts, and shorts.
Baltimore-Washington International Airport – Roam Fitness in the terminal (after security, between concourses D and E) – You can rent workout clothes and shoes, and you can shower after your workout. They have healthy meals and recovery drinks available as well.
Minneapolis-St. Paul International Airport – They have a 1.4 mile walking path located at the Lindbergh Terminal (starting at the intersection of the C and D concourses.
San Francisco International Airport – Yoga room – This self-led practice studio is open 24 hours at no charge. Yoga mats are also available. (Located just past security in Terminal 2)
These gyms offer day passes to use their facilities at reasonable prices.
Leave Nothing to Chance
You can be sure to maintain your fitness routine if your travel vacation is paired with planned fitness activities. Fitness-themed vacations have grown in popularity in the last ten years. These are some of the travel sites offering fitness activities plus active tourist adventures.
Active Escapes – Offers fitness retreats to destinations such as Bali, Barbados, South Africa, Australia, Greece, and other exotic destinations. Professional trainers provide daily training sessions and activities designed for the location. All costs included in the trip price.
Fit and Fly Girl (for women) – Hosts fitness, wellness, and cultural retreats for women in locations around the world. Provides accommodations, fitness classes, healthy and delicious food, wellness activities, spa treatments, cultural excursions, entertainment, and time to care for oneself while creating new friendships with other women.
Jungle Bay Dominica Fitness Boot Camp – Enjoy fitness activities while also exploring the beaches and jungles of Dominica. Instructor-led fitness regimes, hikes, and yoga sessions as well as snorkeling, kayaking, cooking classes, etc.
Big Sky Yoga Retreats – In Montana where you will have yoga sessions, Nordic ski lessons, meditation, and wildlife watching. In winter, you can also enjoy horse-drawn sleigh rides while you're having your dinner!
Backroads – Active vacations with biking, hiking, multi-adventure tours. Trips are organized based on different levels and abilities, catering to singles, families, or private groups.