Which is better for losing weight: eating breakfast or skipping it? There is no definitive answer, but many nutritionists and weight loss experts agree that eating a nutritious breakfast is a crucial part of an overall healthy lifestyle.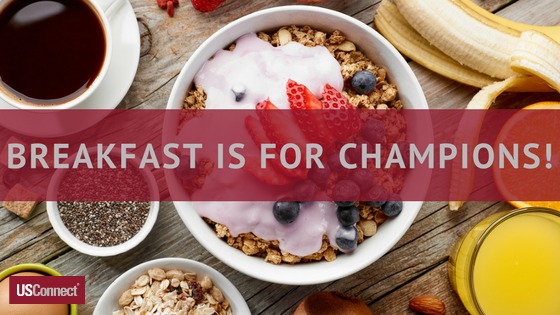 The Mayo Clinic is a nonprofit medical organization whose weight-loss program is based on solid research and clinical studies. Part of the Mayo Clinic Diet is making it a habit to eat a healthy breakfast as often as possible, which helps people lose weight and keep it off by
Reducing hunger later in the day.
Helping to promote healthy choices throughout the day.
Providing more energy for physical activity.
According to Mayo Clinic staff, the building blocks to a healthy breakfast include these foods:
Whole grains
Lean protein
Low-fat dairy
Fruits and vegetables
With USConnect's The Right Choice… for a Healthier You™ program, you can find nutritious breakfast choices like whole-grain oatmeal, nonfat yogurt, fresh produce, and even hard-boiled eggs. The Mayo Clinic's research shows that people who regularly eat these types of breakfasts not only lose weight, but they also control their cholesterol and blood sugar, get more vitamins and minerals, and perform better at work.
If breakfast isn't part of your usual morning routine, the Mayo Clinic has some recommendations to help you get into the healthy habit:
Get into the habit by starting with something small and portable, then work your way up.
Replace added sugar with the natural sweetness of fruit and spices like cinnamon.
Prepare in advance and have healthy foods at-the-ready so you're not adding to the morning rush.
Don't limit yourself to breakfast food; there's no reason not to eat a turkey sandwich on whole wheat for breakfast.
Make it portable so you can eat as you commute.
Split your breakfast up into micro-meals if you don't feel hungry first thing in the morning.
Change slowly. As we discussed with setting S.M.A.R.T. goals, it's easy to give up on a goal when you try to do too much at once. Start with a healthy breakfast once a week, and then move up from there.