Coffee 101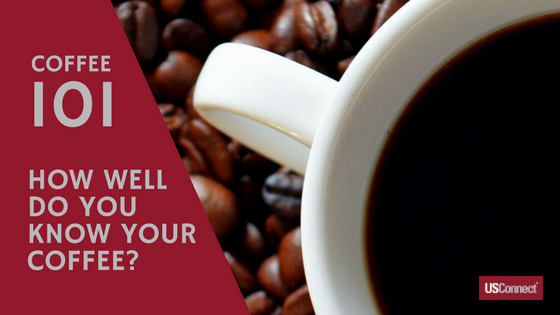 Columbian Arabica. Sumatra Dark Roast. Blond French Vanilla. The names of coffees can be mighty confusing, and that's before you even get to the brewing! If you've ever wondered what all those coffee terms mean, here's your coffee primer.
What is Coffee? The coffee we drink comes from the beans—or seeds—of the coffee cherry. Since coffee trees grow best in cool temperatures but rich, tropical soil, most coffee comes from the mountains of regions in the "bean belt," which stretches roughly from the Tropic of Cancer to the Tropic of Capricorn. Coffee farmers and producers harvest the coffee cherries, strip the fruit, and dry the seeds. The product is now "green coffee," which coffee roasters buy as a commodity.
Species of Beans: There are actually only two varieties of coffee bean: arabica and robusta. Arabica beans, which have lower acidity and a more delicate flavor, are far more common: If you're brewing coffee at home or ordering it at a high-end café, it almost certainly came from arabica beans.
Arabica beans must be grown at higher elevations and lower temperatures, and are also more labor-intensive to grow. Robusta, on the other hand, has a stronger, more acidic flavor and also has more caffeine. It can be grown at lower elevations and is sold at a lower price. You are more likely to find robusta beans in instant coffee or other lower-cost products.
Geographical Origin:  Among arabica beans, there are hundreds of unique origins relating both to geographic region and bean processing. Broadly, the main coffee-producing regions are South and Central America, Southeast Asia, and Africa and the Middle East. South and Central America's coffees tend to be mild and medium-bodied, making them popular in the United States. Colombia's mountainous terrain, in particular, makes it one of the world's foremost coffee producers.  African and Indonesian coffees, on the other hand, tend to be fuller-bodied, with earthier flavors.
Roasting: Green coffee beans need to go through one more important step before they can be brewed and consumed: roasting. Roasting involves cooking the beans at a low temperature to reduce acidity and release sugars. Roasted beans can range from light brown to almost black in color, depending on the length and temperature of roasting.
Light roast coffees are known by names like Blond Roast or New England Style. Contrary to popular belief, lighter roasts actually have higher acidity than darker roasts, since roasting removes acids from the beans. Lighter roasts also have more caffeine, and because there's less roasting flavor, they give a clearer taste of the green bean profile.
Medium roasts, which are most common in the United States, have names like Breakfast Blend, Full City, or Regular Roast. If you order a coffee in a restaurant, you will probably get a medium roast. Dark roast beans appear very dark brown and shiny, as the roasting process has released more of the oils from the seed. These coffees, with names like French Roast, Viennese Coffee, and Espresso have a sweet, caramelized flavor—sometimes with a burnt taste as well.
Stay tuned for Coffee 102, where we'll discuss flavor additives, brewing styles, and more.