Let's Dance! Incorporating Dance Into Your Workouts
If you've grown bored with your regular workout routine, try mixing some dance moves into your workouts. Not only is dancing fun, but it can also burn up to 600 calories per hour, which is about the same or more than going for a swim or a run for the same amount of time.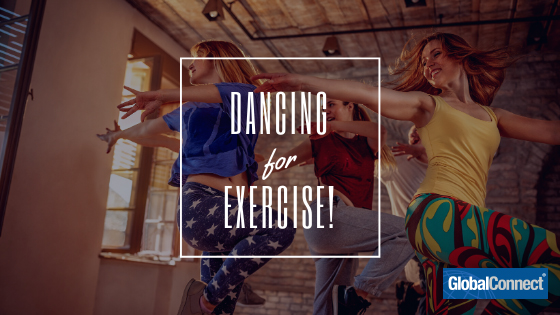 Dance It Out
Dancing is one of the best things you can do for your body. In addition to burning calories and building muscle, according to Dance Magazine, research has also shown that dance improves mood, reduces stress, increases energy, lowers anxiety, slows cognitive decline, increases confidence, and much more.
A 2017 report from the University of Brighton in the UK found that dancing demands a lot of energy output because it involves movement in all directions. Dance involves much accelerating and decelerating which the body is less able to do in an energy-efficient way, so your body is having to work harder than if you were running or swimming, for example. Because dancing involves a lot of starting, stopping, and changing directions, it burns a lot of energy even though the dancer may not be covering a lot of ground.
Dance engages muscles in different ways than traditional types of exercise. Dancing uses less repetitive movements than exercise such as running or weightlifting, so it keeps your muscles from adapting as they would to repetitive movements, and this can strengthen and tone your muscles in new ways. It also improves balance, which is really important as you age to help you avoid injury.
Shake Your Booty
Now that you know all of the benefits dancing can have for your body and mind, how can you incorporate dancing into your exercise routine, especially if you think have two left feet? The good news is that you don't have to be able to turn perfect pirouettes or move like Beyoncé to reap the benefits of dance.
Here some ways you can add dance into your weekly workouts:
Sign up for a dance class. Many dance studios offer adult classes in ballet, tap, jazz, and hip-hop dance as well as many other styles of dance. Enrolling in a beginner's class will help you learn the type of movements and teach you correct form. You can also take partner dance classes such as ballroom dancing, salsa, or swing dancing, which are great ways for you and your partner to spend time together learning something new and doing something good for your body.
Take a fitness dance class. While fitness dance classes are different from traditional dance classes offered at dance schools, many gyms offer some type of dance fitness class such as Zumba, Barre, or Cardio Dance. These classes are high-energy and focus less on form and technique and more on getting your heart rate up and exercising specific muscle groups.
Purchase a dance DVD. If you don't belong to a gym or don't want to pay class fees, there are many dance DVDs available that you can do at home. You can find DVDs for everything from Zumba to classical ballet to belly dancing. Plus, you might be less self-conscious about your dance moves when grooving in the comfort of your own home!
Use a dance video game. If you have kids, chances are you have some sort of video game system. There are many dance video games that are easy to follow that you can do with your whole family.
Hit the dance club. Plan a regular night out with your partner or friends to hit the dance floor. Dancing is a great social activity,  and spending a night grooving on the dance floor with friends can work up a sweat and count as a workout.
To enjoy the benefits of dance, don't worry about how you look or if you are doing certain dance moves the right way—just get moving to the music and have fun. The best part about dance is that it doesn't feel like exercise because it's so much fun!