Every spring, millions of Jews around the world celebrate Passover, the commemoration of the Jews' exodus from Egypt. Passover is an eight-day, home-based holiday, where families and friends gather to retell the story of the Jews' slavery in Egypt and their escape to freedom. Observant Jews eat only "Kosher for Passover" foods for the full eight days of the holiday.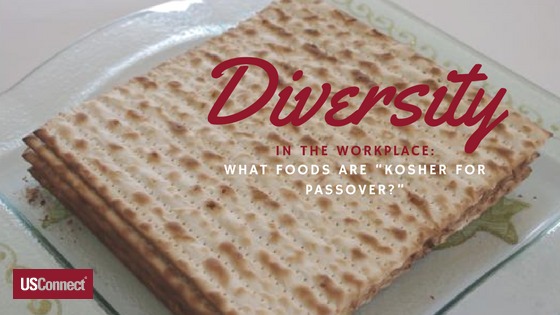 So, what does "Kosher for Passover" mean? According to the story of Exodus, the Pharaoh allowed Jews to leave Egypt, but only if they departed right away. That meant that the women cooking bread for the journey couldn't wait for the dough to rise; they had to bake it right away—leaving it unleavened. To remember this escape from bondage, observant Jews eat no chametz (leavened bread) for eight days.
According to Chabad.org, chametz  is "any food product made from wheat, barley, rye, oats or spelt that has come into contact with water and been allowed to ferment and 'rise.' In practice, just about anything made from these grains—other than Passover matzah, which is carefully controlled to avoid leavening—is to be considered chametz. This includes flour (even before it is mixed with water), cake, cookies, pasta, breads, and items that have chametz as an ingredient (like malt)." The most common non-chametz food item is matzah, a flat unleavened bread.
From a foodservice standpoint, an office that wants to support its observant Jews can start by making sure that nutritional information is readily available for all the food it provides. A simple ingredient check can let people know if a food product contains any chametz (similar to how nutritional information provides important choices for people with food allergies or people watching their salt, fat, or sugar intake). Note that chametz includes most pasta, cookies, crackers, and even beer!
Foodservice managers who want to go a step further and supply "Kosher for Passover" foods need to look for packaged foods that have been certified "Kosher for Passover" by a Rabbi who is trained in the intricacies of Kosher food preparation. Note that there is a difference between the designation for "Kosher" and "Kosher for Passover." Kosher foods prohibit certain ingredients (pork, shellfish) and require a complete separation of dairy and meat products. "Kosher for Passover" foods, however, include those prohibitions in addition to the prohibition of chametz.
Being culturally sensitive to observant Jews doesn't need to mean supplying fully "Kosher for Passover" meals and snacks. Many foods are naturally appropriate, especially produce, meat, and dairy products.
And remember, Passover is closely tied to the Christian holiday of Easter. It is thought that the Last Supper was actually a Passover Seder, and like Easter, Passover celebrates eternal themes of rebirth and renewal.