This week marks the beginning of Ramadan, the holiest Muslim month. During the ninth month in the Muslim lunar calendar, observant Muslims all over the world commemorate the revelation of the Quran to Muhammed by both feasting as fasting. Islam is the world's second-largest religion; what do HR departments and employees need to know about this important holiday?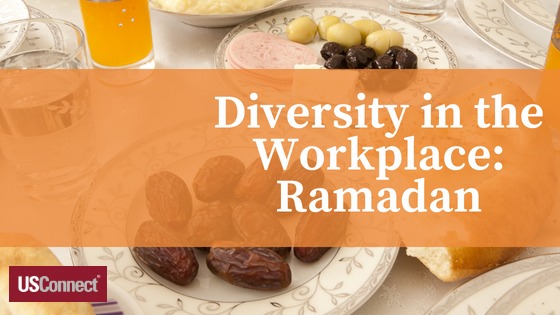 Even during the rest of the year, observant Muslims eat only foods that are halal. Like kosher foods, halal (lawful) rules of Islam prohibit pork, as well as "carnivorous animals, birds of prey, animals without external ears (some birds and reptiles), blood, alcohol, and foods contaminated with any of these." According to Today's Dietician, processed food containing ingredients like gelatin, emulsifiers, and enzymes may be unlawful for some Muslim consumers, so providing nutrition information is especially important.
The timing changes every year. Ramadan goes by a lunar calendar instead of the Gregorian calendar that is most widely used in secular society. The holiday starts the day after the new moon of the ninth month, and ends with the new moon of the tenth month. In 2018, Ramadan starts on May 15. In 2019, it will start on May 5. To be culturally sensitive to this changing holiday, it's a good idea to keep track of when it will fall each year.
Observant Muslims fast during the day during the whole month of Ramadan. Before dawn, Muslims eat a meal called suhoor, and they break their fast after dusk with a meal called iftar. Be aware, if any colleagues or employees are observing Ramadan, that it would be insensitive to offer them lunch or snacks during the day.
Iftar is often a social meal. While specific food customs differ around the globe, iftar often involves a gathering in the home or a location central to the community. Want to try some Ramadan treats? The Kitchn suggests the following tasty treats from around the world:
Dahi vadey: Lentil dumplings that are soaked in a spicy yogurt sauce (India)
Haleem: A slow-cooked stew of meat, bulgur wheat, and lentils (Middle East, India, Pakistan, and Central Asia)
Chicken 65: Spicy, bite-sized pieces of chicken that are marinated and deep-fried (India)
Ramazan Kebabi: A dish made with lamb, onions, yogurt, and pita bread (Turkey)
Ful medammes: Fava beans cooked with garlic and spread on bread (North Africa)
Paomo: A bread and mutton soup (China)
Chapatis: Unleavened flatbread that is rolled up with vegetables and meats (India and Pakistan)
Fattoush: A salad made of vegetables and pita bread (Lebanon and Arab countries)
Konafah: A pastry made with phyllo dough and cheese (Middle East)
Kolak: A fruit dessert made with palm sugar, coconut milk, and pandanus leaf. Fruits, such as jackfruit or banana, or mung beans are added (Indonesia).
In our increasingly globalized world, it's more important than ever to be respectful of all traditions, and USConnect is glad to help.