Would you be willing to swap a doughnut for several slices of bacon? How about a nice grilled cheese sandwich… without the bread? Would you consider replacing the cream in your coffee with clarified butter? If you answered yes to any of these questions, then the keto diet might be right for you.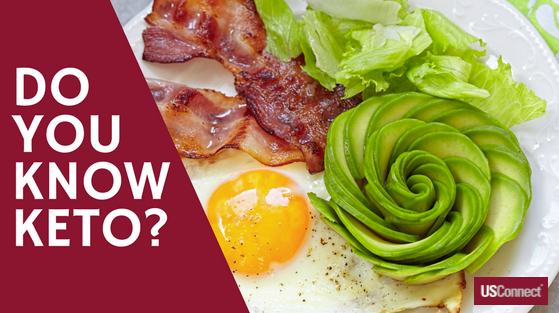 Keto is short for ketogenic, which refers to the way the program relies on a diet of drastically reduced carbohydrates and drastically increased fats. The basis of the keto diet is the fact that, usually, humans get their energy from glucose—blood sugar—because our bodies can quickly convert it into adenosine triphosphate (ATP): the chemical form of energy that our bodies can use. We raise our blood sugar—and thus our usable energy—by digesting carbohydrates from grains, fruits, and vegetables.
If we eat almost no carbs, however, the human body still finds a way to make energy through a process called ketogenesis. During ketogenesis, the body goes into a state of ketosis and begins to burn fat for energy instead of glucose. Thus, ironically, eating a high-fat diet actually makes the body burn more fat.
For all its newfound popularity in recent years, the ketogenic diet actually dates back to the early 20th century, when researchers found that a high-fat, low-carb diet helped reduce the occurrence of seizures in epileptic children. Other, more recent weight-loss diets have also advocated for deep cuts to carbohydrate consumption: but not this deep. People on the keto diet can eat only 20-50 grams of carbohydrates per day for the entire duration of the program; or if they're making it a lifestyle choice, for the rest of their lives. As a point of comparison, The U.S. Centers for Disease Control (CDC) reports that most Americans get almost half of their caloric intake from carbohydrates; this is usually closer to 300 grams per day.
The keto diet does result in weight loss—especially at first. For many participants, eating more fatty foods helps them feel full and satisfied, so they actually end up eating less food. However, as a practical matter, the keto diet is quite restrictive. The average apple contains 25 grams of carbohydrates. A half-cup of quinoa contains 20 grams. To get your body to go into ketosis means truly eliminating almost every carbohydrate from your diet, including the healthy ones. In their review of 40 different diets, the health experts of U.S. News and World Report ranked the keto diet as number 39.
The bottom line: the keto diet works better for some people than for others. It may be worth a try for short-term weight loss, but its long-term effects still need more research. Talk to a doctor before starting the keto diet, especially if you have a history of kidney problems or disordered eating.