We've all been there in that morning rush when you are trying to get your lunch packed, make sure the kids have their lunches packed, and you've already spilled your coffee. It seems like everything in the universe is conspiring to make you late for work. You are tempted to skip breakfast, but your stomach is churning, and you know it really is the most important meal of the day— regardless of how cliché that may sound.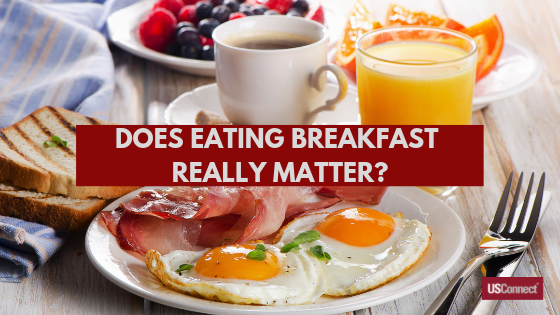 Is it true? Is breakfast really that important? Well, according to dietitians, yes. It is! Not only does eating breakfast give your metabolism a kickstart—helping you burn calories all day long—but it helps your brain to focus, which is important whether you are heading to the office or heading to school.
Believe it or not, eating breakfast is also linked to maintaining a healthier weight. According to Christy C. Tangney, PhD, a clinical dietitian at Rush University Medical Center, "Studies have found that although people who skip breakfast eat slightly fewer calories during the day, they tend to have a higher body mass index, or BMI."
Many studies have shown that eating breakfast is associated with having a better memory and concentration, a lower chance of developing diabetes, heart disease, having lower levels of "bad" LDL cholesterol, and having good health in general.
It is difficult for experts to say whether breakfast is the cause of these healthy traits or whether people who eat breakfast just also have healthier lifestyles.
In addition to benefits for your health, eating breakfast can affect your emotional outlook as well, improving your mood in the mornings drastically. Skipping breakfast, or any meal for that matter, can lower your blood sugar which not only leaves you feeling weak and tired, but also lowers your mental acuity, and often puts you in a bad mood.
British researchers conducted a study (published in the 1999 journal, Physiological Behavior) in which 144 otherwise healthy adults fasted overnight and then were separated into several groups the next morning. One group ate nothing, one group had a moderate breakfast, and the third group only had coffee. Over the next several hours the groups were monitored.
The group having had nothing to eat performed the worst on memory tests and felt the most fatigue at noon, four hours after waking.
The group consuming coffee did not feel fatigue, but had lower scores on mental skills tests than those who ate breakfast.
Other studies have turned out similar results. Dr. Tangney also points out in regard to adolescents, "Of more concern is that an association has been found between skipping breakfast and other risky behaviors like smoking and experimenting with drugs and alcohol." So, including that all-important meal in your family's daily routine may be helping in more ways that you can imagine.
If you often have no time to prepare breakfast in the morning, try keeping some ideas on hand that you can use to prepare the night before a quick grab-and-go breakfast. Muffins or mini-quiches can be made the night before, or perhaps just some simple biscuits with bacon and cheese that you only need to reheat in the microwave before you leave. There are many options that are easy to prepare in advance that you can serve all week long without having to spend hours in the kitchen or make yourself late getting out the door in the mornings. Your morning rush will be a little less stressful if you can just grab it and go.