Help Prevent Colds and Flu with Regular Exercise
Regular exercise is good for our bodies and well-being, but research also shows that regular, moderate exercise can also help our bodies fight off germs during cold and flu season. The key, though, is the word moderate—in contrast, more intense exercise and endurance training have been shown to have the opposite effect on the immune system.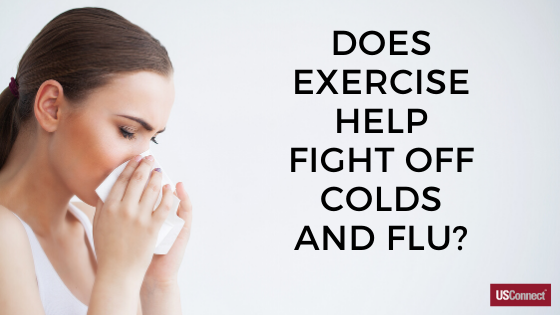 Moderate Exercise Boosts Immunity
A research study found that staying active decreased the odds of catching a cold by nearly half, and even for those who exercised regularly and still caught a cold, the infection and symptoms were less severe. Lead researcher Dr. David Nieman, director of the Human Performance Laboratory at Appalachian State University in North Carolina and a former president of the International Society of Exercise Immunology says, "Bouts of exercise spark a temporary rise in immune system cells circulating around the body that can attack foreign invaders."
Research shows moderate amounts of aerobic exercise such as walking, jogging, or cycling during peak cold and flu months help boost the body's defenses against viruses and bacteria. Moderate exercise is considered to be 30 minutes, four to five times per week.
But in people who engage in prolonged exercise, such as marathon running, research has shown it can suppress certain parts of the immune system. Those who engage in fitness exercise seem to have better resistance to colds and viruses than those who participate in more intense endurance training. For example, athletes running 60 miles a week have double the odds of sickness, compared to those who run less. Research shows that more than 90 minutes of high-intensity endurance exercise can make athletes susceptible to illness for up to 72 hours after the exercise session.
Should You Exercise When You're Sick?
If you're feeling under the weather, you may not feel like exercising at all, but if you are a regular exerciser or are training for a 5K, for example, you may feel like missing your workout will put you behind.
Deciding whether or not to exercise when you are sick depends on certain factors. According to David Pyne, a sports scientist, and researcher with the Research Institute for Sport and Exercise at the University of Canberra, athletes do what's known as the "neck check" when determining if they should continue with regular training or rest for a few days when sick.
The "neck check" means that if your symptoms are from the neck up and not too severe—such as a runny nose or sore throat, and you don't have a fever—then moderate exercise won't make you worse and actually might be beneficial.
However, if your symptoms are more severe and are below the neck, like chest congestion or muscle or joint aches, or you're running a fever, you should avoid exercise until your symptoms subside. Exercising with more severe cold or flu symptoms can prolong your illness and make you feel worse.
After a bout with the common cold, once symptoms have resolved, you can safely resume your regular exercise routine. But if you've had more severe illness or the flu, it's important that you return to exercising gradually. Ease back into your routine with light exercise on the first day or two after an illness, and gradually work back up to your normal routine.
Keep the Germs Away
In addition to regular moderate exercise, there are other lifestyle changes you can make to help prevent colds and flu:
Eat a healthy diet with lots of fruits and vegetables.
Get enough sleep.
Drink plenty of fluids.
Get a flu vaccine annually.
Wash your hands with soap and warm water frequently.
Wipe down counters and other surfaces (phones, remotes, doorknobs, light switches, etc.) with a strong cleaner.
Keep your hands out of your mouth, ears, nose, and eyes.
Stay home if you're sick!