Americans don't eat enough vegetables. This is a commonly known fact. In fact, according to the Centers for Disease Control (CDC), only one in 10 adults are getting enough fruit and vegetables in their daily diets. Yet government guidelines recommend that adults eat at least two to three cups of vegetables per day as well as at least one-and-a-half to two cups of fruit. So, how can you change your diet and modify your cooking to make sure you're meeting the recommended guidelines?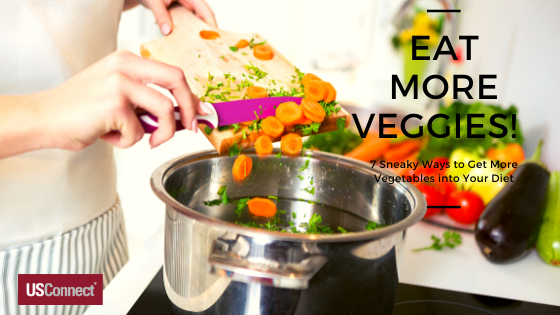 Maybe you aren't a big fan of broccoli, or you aren't sure how to prepare vegetables in an appealing way. Or maybe, like many people, you just find it inconvenient to eat all of those veggies when there are quick and easy packaged meals ready to go.
Whatever the reason, it's important to eat enough vegetables because they are rich in nutrients and antioxidants, which can help keep you healthy and help fight off disease, as well as help you maintain a healthy weight.
Here are seven creative ways to incorporate vegetables into your cooking that are both easy and appetizing.
1. Make vegetable-based soups.
Soups are a great way to incorporate several vegetables at once. You can make vegetables the base of the soup by puréeing them and adding spices, meats, noodles, or more veggies. Some examples of vegetable-based soups include tomato soup, carrot soup, creamy cauliflower soup, mushroom-spinach soup, and of course classic vegetable soup. You can find some delicious soup recipes here.
2. Try Veggie Noodles.
If you crave pasta but are watching your carb intake, veggie noodles are a great low-carb alternative and a way to get in several servings of vegetables in one meal. The most common vegetables used for noodles are zucchini, carrots, spaghetti squash, and sweet potatoes. You will need a spiralizer for making veggie noodles: you insert veggies into the spiralizer, and it processes them into noodle-like shapes. Veggie noodles can be eaten just like regular pasta—just add another vegetable-based sauce, such as tomato sauce, and add meat if you like. Toss in some mushrooms and onions, and you've met a big portion of your daily vegetable requirement.

3. Add Vegetables to Sauces.
Speaking of noodle dishes, another easy way to increase vegetable intake is by adding them to sauces. When cooking a sauce, such as a marinara sauce, just add in other veggies like chopped onions, carrots, peppers, or spinach. You can also puree other vegetables to make them into a sauce on their own, such as butternut squash or spinach.
4. Use Cauliflower for Carbs.
Cauliflower pizza is all the rage right now. With the popularity of gluten-free and low-carb diets, substituting cauliflower for flour-based crusts allows you to still enjoy pizza, plus it adds in a full serving of vegetables. Blend more veggies into your pizza sauce or add them as toppings for a veggie-rich meal.
Cauliflower rice is another carb alternative and can be substituted for regular white or brown rice. You can use either a food processor or box grater to make cauliflower rice. It's even easier to cook than regular rice, either on the stove top or in the microwave. You can serve it as a side or use it as a base for other recipes that mix in meat and other vegetables.
5. Blend Veggies into Smoothies.
Smoothies are a really easy way to eat more vegetables and are especially appealing if you have picky kids. They won't even be able to taste the vegetables or know they are in these yummy drinks! Blending in green, leafy vegetables such as spinach and kale with fruits such as mangoes, strawberries, bananas, and peaches packs both fruits and veggies into one sweet, icy drink that you or your kids can have for a quick breakfast-on-the-go or for an anytime snack.

6. Try a Lettuce Wrap.
Using lettuce or other leafy vegetables such as kale or spinach as a wrap instead of a bun or tortilla is one of the easiest ways to eat more vegetables. They can be used for several types of dishes including bunless hamburgers or hot dogs, or a low-carb sandwich.

7. Make a Veggie Omelet.
Omelets don't have to just be for breakfast, plus they're an easy way to sneak in more veggies. Almost any type of vegetable tastes good in an omelet, but the most popular ones are mushrooms, onions, peppers, spinach, and tomatoes. Add in some cheese and/or meat for a filling meal.
By getting creative with using vegetables in your cooking, you'll be able to increase your daily intake and learn to love eating vegetables.