Everyone experiences digestive problems from time to time. Symptoms such as heartburn, indigestion, gas, bloating, constipation and abdominal discomfort are common and can be caused by a variety of things including diet, age, health conditions, and certain medications. But when digestive distress becomes a constant problem and interferes with your day-to-day life, it may be time to reexamine your diet and make some changes that can help alleviate unpleasant symptoms and lead to better digestive health.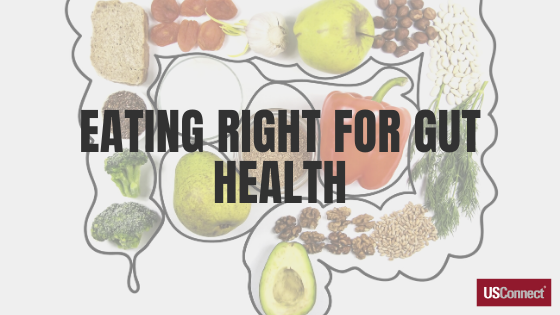 Scientists have discovered in recent years that in addition to improved digestive health,  the GI system is linked to many other aspects of health from immunity to emotional health to chronic illnesses including cancer and Type 2 diabetes. This link is believed to lie in the microbiome—the bacteria and other microorganisms that inhabit the stomach and intestines.
It's important to note that persistent digestive problems should always be checked by your doctor. If you've been cleared medically of any underlying health conditions, then changing your diet can help regulate digestion and improve your overall gut health.
The Big Three
Improving gut health revolves around three major sources: foods containing fiber, probiotics, prebiotics, or a combination of all three.
Fiber, found in plant-based foods, aids in digestion as it helps regulate the speed at which food moves through your gut.
Probiotics in foods are live microorganisms or so-called "good bacteria." These foods are created through the fermentation process and can encourage a healthy digestive tract.
Prebiotics are necessary for probiotics to work in helping the flora in your gut to flourish.
While there are a lot of over-the-counter probiotic/prebiotic supplements available on the market, these types of supplements are not well-regulated, so you don't know if you're actually getting what is on the label. It is much more beneficial to get these nutrients through food rather than supplements. The best foods for all three sources are whole foods including fruits, vegetables, whole grains, and dairy products.
Focus on Fiber.
Most Americans do not get enough fiber in their diets. The recommended daily amount of fiber for women is 25 grams and 38 grams for men. Increasing the fiber in your diet should be done gradually, especially if you aren't already eating a lot of fibrous foods, because adding too much too quickly can cause cramping and gas. By increasing your fiber intake gradually, digestive symptoms should also gradually improve.
To increase your daily fiber intake, eat a wide variety of vegetables, fruits, and whole grains, and try adding more of these particular foods to your diet:
Legumes such as chickpeas, lentils, navy beans, and white beans
Berries such as blueberries, blackberries, raspberries, and strawberries
Whole grains such as barley, bran, and bulgur
Promote Probiotics and Prebiotics.
Research on probiotics and prebiotics is relatively new, so there is currently no specific recommendation for daily intake. Eating a variety of foods containing probiotics several times a week can help regulate digestion and ease mild digestive symptoms.
The best sources of probiotic foods include:
Yogurt
Kefir
Sauerkraut
Tempeh
Kimchi
Miso
Kombucha
Pickles
Cheeses – Gouda, mozzarella, cheddar, cottage cheese
Prebiotics are found in fiber-rich foods, like fruits and vegetables, although not all plant-based foods contain prebiotics. Some of the best sources include bananas, nuts, whole wheat, and corn.
By revamping your diet to include more of these foods that promote a healthy gut, you can lessen or eliminate symptoms of digestive distress and improve overall health.