The holiday season is in full swing, and if you're like most of us, you're already feeling the pressure to shop, decorate, cook, send cards, and attend every party or event to which you're invited. But stop right there! This time of the year doesn't have to stress you out; there are many ways you can plan your holiday to reduce stress and put some enjoyment back into the season. After all, it's supposed to be the most wonderful time of the year—not the most stressful!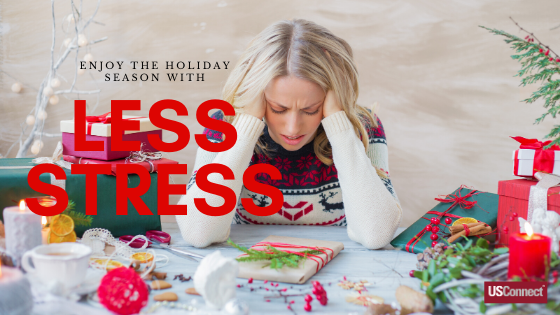 Let go of expectations.
The pressure to feel a certain way during the holidays is everywhere. Words like "joy," "wonder," and "celebrate" are plastered on everything from coffee mugs to sweaters, but many people find this time of year to be overwhelming and stressful. Overcommitting to events and trying to create the "perfect holiday" can drain any enjoyment out of the season. Comparing yourself to friends' perfectly staged photos on social media can add another layer of expectation that your holiday should look and feel a certain way. The reality is that endless to-do lists, obligations, busy schedules, and travel logistics can often overshadow the idyllic Hallmark Christmas-movie images you have of the perfect holiday.
By letting go of all these expectations, you can free yourself of a lot of unnecessary stress. Decide what is most important to you for the holidays: Is it spending time with family? Attending church services? Giving to those in need? Focus on what makes the holidays most enjoyable for you and let go of the things that cause too much stress. If that means not sending out holiday cards this year, that's okay. Or if it means keeping decorations to a minimum, or declining some holiday invitations, or even canceling a trip to visit family, then do so without guilt. Let go of unrealistic expectations and obligations that you dread so you can find the true joy and wonder of the season.
Make a to-do list.
Getting organized and making a list of everything you need to do for the holidays from gift-giving to dates for each child's holiday concert and class party will help you manage stress, so you know what's happening and when. Plus, checking off tasks from your to-do list will give you a certain satisfaction and sense of accomplishment.
Set a budget and stick to it.
Overspending and worries about money are two of the biggest stressors of the holiday season. To lessen the worry over spending too much, decide how much money you can realistically afford to spend. Consider all of the different aspects of holiday shopping including gifts, decorations, food, travel, cards, and clothing. Divide your budget into these categories and assign a dollar amount to each. If the numbers aren't lining up, take a second look to see what changes you can make to save money. Track your spending as you go and be leery of putting too many purchases on credit cards to avoid getting a huge shock in January when your credit card statement arrives.

Learn to say no.
There is a heightened sense of obligation during the holidays—office parties, neighborhood gatherings, gift exchanges, helping with fundraisers, and visiting far-away family you only see once a year, etc. Committing yourself to every party or event you're invited to is a sure way to add unnecessary stress. Learn to say no without guilt. You are in charge of your calendar, and you are not obligated to appear everywhere you're invited. Lightening your schedule will instantly relieve a huge amount of the stress you feel this time of year, and it will leave time for things you really want to do.

Avoid overeating.
Sweet treats and rich desserts are intrinsic to holiday celebrations. You can still enjoy them without overdoing it. Don't view this time of year as giving you free reign to eat whatever you want, whenever you want. Try to stick to a healthy eating plan, and enjoy a treat or two when you are at a party or event;  just don't go overboard with the candy canes, cookies, and eggnog. Overeating will make you feel sluggish and add more stress and unwanted pounds. Try to fit in your regular exercise routine even when your time is limited. Exercise will help lower stress levels and keep holiday weight gain at bay.

Make time for downtime.
No matter how hectic the holidays get, make sure to take some time to unwind and recharge. Do things that help you relax and that you enjoy, whether that's watching a Netflix show, reading a book, or taking a warm bath. Carve out time in the early morning or late evening for yourself; it will help you to keep your sanity in all the chaos!