If you've made it your New Year's resolution to start an exercise program, you're not alone. The majority of New Year's resolutions are fitness-related, with 65 percent of those who make resolutions vowing to exercise more, according to Inc. com. Perhaps you aren't just wanting to exercise more or run a 5K, but instead, you've never really exercised much before and want to start being more active, but aren't sure where to begin.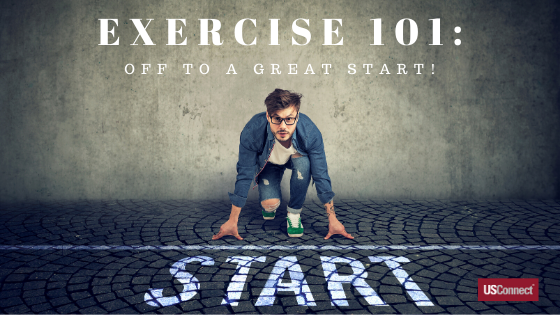 Here are some tips to get you started on an exercise program so you can make a lifestyle change, and not just burn out after a couple of weeks and quit by the end of January.
Get a checkup.
Before beginning any sort of exercise program, it's important to check with your doctor first. If you've been inactive for a while or are over 45, you should consult a doctor to make sure you don't have any underlying health conditions or limitations that could put you at risk for injury during exercise.
Choose an activity you enjoy.
Exercise doesn't necessarily have to mean a strict, time-consuming workout at the gym. There are so many different types of exercise that it's best to start with something you enjoy doing, so there's a better chance you'll stick to it. You can always try something new later on after your fitness has improved. Activities such as walking, dancing, biking and even gardening are good ways to get started moving, especially if you've led a mostly sedentary lifestyle in recent years.
How much exercise?
For heart health, the American Heart Association recommends at least 30 minutes of moderate-intensity cardiovascular exercise most days of the week. If you can't do a full 30 minutes, even as little as 5-10 minutes will still offer benefits, and you can increase the duration as your fitness level improves.
As a long-term goal, the American College of Sports Medicine's current recommendations for physical activity include at least 150 minutes of moderate aerobic exercise per week. You can achieve the 150 minutes any way that works best for you—for example, you can work out for 30 minutes five days per week, or do a 40-minute workout every other day.
Set realistic goals.
Create an exercise plan that has clear, achievable steps and goals. For example, set goals to exercise for 30 minutes three times per week to begin. After a few weeks of sticking to that plan, increase to four days and increase the duration of how long you exercise. Continue to build on this type of schedule as your fitness improves. Once you're exercising regularly for as many days as you can, you can also set more long-term goals, such as completing a 5K.
Create a habit.
You are more likely to stick to an exercise program if you can make it a regular habit. If you schedule your workout at the same time every day, such as after or before work, you'll be more likely to stick to it long term. Use your online calendar or a print calendar to schedule your workouts into your day just like you would other appointments. Set reminders on your phone or use fitness trackers if that keeps you motivated.
Stay hydrated.
Make sure you are drinking enough water throughout the day to keep your body properly hydrated. If you're exercising in hot temperatures, it's also important to replenish fluids during exercise, and always drink water after you finish your workout to help your body recover.
Warm up and cool down.
Be sure to always warm up before each workout. Stretching your muscles will help prevent injury, increase flexibility, and help reduce muscle soreness after working out. Similarly, cooling down after a workout is equally important. Light walking or stretching after a workout can help return your breathing to normal and help reduce muscle soreness.
Listen to your body.
If you're just beginning and are not used to strenuous exercise, start slowly and pay attention to your body's limits. If you feel any pain or discomfort during a workout, stop and rest before continuing. By starting slowly and building up the intensity of your workouts over time, you're more likely to stick with it and less likely to injure yourself.
Reward yourself.
Regular exercise has all kinds of wonderful benefits for our bodies including increased energy, improved sleep, improved emotional health, weight loss, and improved overall health. But these types of benefits are long-term rewards. To motivate yourself to stick with an exercise program long term so you will reap these types of health benefits, it's important to give yourself short-term rewards when you reach a fitness goal or even after completing a week of workouts. These rewards can be anything you enjoy such as a hot bath, watching a show on Netflix, a manicure/pedicure, a new pair of sneakers or new workout clothes. Just make sure you only allow yourself the reward after you exercise.