If you have started a new exercise regimen and are trying to make healthy changes in your lifestyle, kudos to you! Did you know that in addition to a set of earbuds, fit-bit or pedometer, favorite playlist, perhaps new shoes and workout clothes, you are missing something important? That would be your workout buddy. Even if you are a loner who prefers to exercise by yourself, you should really give serious consideration to finding another person to share your workout.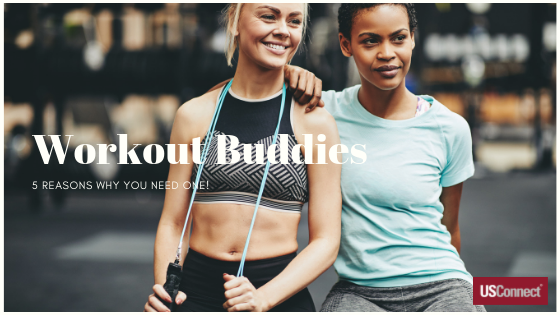 Here are some reasons why:
The obvious reason most people find a workout buddy is motivation. On those days when you aren't quite feeling it, and you don't want to go to the gym or face whatever fitness challenges await you,  a workout buddy can hold you accountable and keep you from slacking off. It's important that you choose someone who will push you and not let your laziness convince him/her to also skip the workout. Make sure your workout buddy has a schedule that is compatible with your own, or it's doomed from the start.
Your workout will be safer with a partner. If you are working out in the gym, your buddy can help you avoid injury. He/she can spot you when bench-pressing, and keep an eye on your form. Even the most experienced can lose focus and fall into improper form when attention is on completing repetitions. Having someone with you is an important way to avoid that and prevent potential injuries. Even if you are exercising outside the gym, doing it with a workout buddy is always safer in case you run into trouble.
The competition will keep you running at full force, giving it your all. Many of us have a competitive streak, and working out with a partner helps to keep you at the top of your game because we don't want to be the "weakest" link. There is actually a term for this; it's called the Köhler Effect, and there have been studies  about it. They proved that when people work out with a partner who is in better shape than they are, they tend to perform better. So, choosing a buddy who is fitter than you will also motivate you to work out harder and longer than you might on your own.
Most of us are creatures of habit. We tend to fall into the same routine, and after a while, it can get boring. Your workout buddy can introduce you to new exercises and new paths if you are into running, cycling,  walking, and other things that keep your workout fresh and interesting. Sharing what you know with each other can introduce variety into your exercise and make it more fun.
Last, but not least, working out with a buddy is like a free therapy session. More than likely, you will eventually begin to share stories about things that happen at work or home,  and it's a chance to get things off your chest and hear another person's perspective on the situations you are dealing with. Even if you don't feel comfortable sharing personal information, just having someone to chat with and share a few laughs while you exercise keeps you socially engaged, boosts your immune system, and decreases stress hormones.
So, start thinking about who would make a good workout buddy, and go ask him or her to meet up for your next workout!