At USConnect®, we want to help people reach their health goals. That's why we offer so many fresh food options and our dietician-managed The Right Choice … for a Healthier You™ program. That's also why we use this blog to dispel some health myths, like the idea that diet soda is healthy, or that anything with vegetables is good for you. This post is a follow-up to our last Foods that Appear Good for You… But Aren't article, where we help you avoid some common "health food" traps.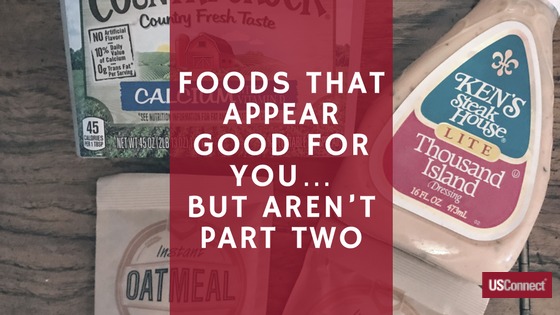 Trick Food #1: Bottled Salad Dressing
Raw vegetables: healthy. Most bottled salad dressings: not so much. To make lettuce and other vegetables more palatable, most salad dressings rely on trans-fats, sugar, and artificial flavors. Further, prepared or restaurant salads are often drenched in the stuff, turning a potentially healthy meal into a nutritional disaster. One popular restaurant's kale salad has 600 calories and a whopping 40 grams of sugar!
Trick Food #2: Margarine
For decades, marketers promoted margarine as a healthier option than butter because it contains less saturated fat, which some studies associated with higher risk of heart disease. More recent studies, however, suggest that trans fats, not saturated fats, are the culprit. Margarine is often laden with refined oils and trans fats, making it a less healthy option. Your best bet? Use butter sparingly, and don't assume that margarine is a healthier option.
Trick Food #3: Instant Oatmeal
Oatmeal may seem like a hearty, healthy breakfast, and it certainly can be. The rule, as with most packaged foods, is to read the nutritional information carefully. A popular instant maple and brown sugar oatmeal package, for instance, contains 12 grams of sugars, but only three grams of fiber and four grams of protein. To really keep you going until lunch, a bowl of oatmeal should have at least four grams of fiber and five grams of protein. And since the American Heart Association recommends that men eat no more than 36 grams and women eat no more than 25 grams of added sugar per day, try to cut your breakfast sugar intake to below six grams.