Most people truly want to eat more healthily. And most companies want to provide healthy foods to their customers. The problem, however, is that healthy foods tend to lack the salt, fat, sugar, and carbohydrates that people crave. So, even while people try to eat healthily, they soon tire of the high-fiber, low-fat foods that they should be eating, and reach for more appetizing alternatives. Hence the boom in snack food that makes at least some concessions to health. Supermarket shelves are filled with products that advertise that they contain healthy vegetables or high-protein grains. But how healthy are these foods, really? Here's a breakdown of how some of the most popular "healthy" snacks stack up.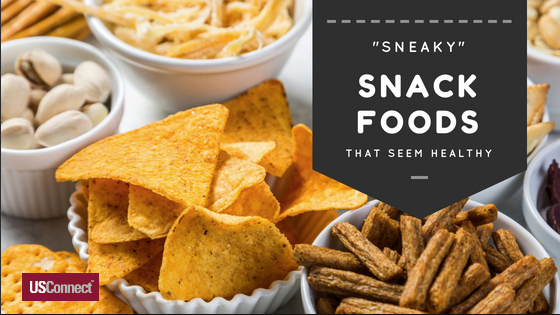 Veggie Chips/Straws
They're veggies, right? That must mean they're healthy! Well, that depends on the product. With just a few exceptions, many of the most common veggie snack products have similar nutrition profiles to potato chips, with primary ingredients of potato flour and potato starch. Many of these potato-heavy healthy snacks indeed have lower fat and calories than standard potato chips, but they don't have any of the vitamins or nutrients that real vegetables provide. Veggie chips made from whole dehydrated vegetables are likely to have more of the good vitamins and nutrients, but they are also likely to have more fat and salt to make them more palatable. Bottom line? Read the label to find out what you're really eating.
Quinoa Chips
Quinoa is a popular superfood because of its relatively high protein content, and people are drawn to quinoa chips for the same reason: they hope the protein will stave off hunger and help them eat less. Indeed, some quinoa chips have as much as nine grams of protein and as little as 12 grams of carbohydrates (compare to two grams of protein and 16 grams of carbohydrates in a serving of regular potato chips). Other quinoa chips, however, have as little as 1 gram of protein. If protein is your primary goal in a snack food, quinoa chips may be a good choice, but make sure to check the nutrition information before diving in.
Pita Chips
Pita chips have a good reputation; they're often served with hummus (often a healthy snack choice), and they seem like they should be healthier than potato chips. However, most pita chips are made with processed white flour pita bread, which is high on empty carbohydrate calories and low on fiber, protein, and any healthy nutrients. Many pita chips are soaked in oil before baking, and then coated with salt—giving them a very unhealthy nutrition profile that's high in carbs, sodium, and fat: a trifecta of bad nutrition. Not all pita chips fit this mold; look for whole grain chips with less than three grams of fat and more than two grams of protein.