How Gardening is Good For You
This is the time of year when yards come alive and we gardeners once again plan our gardens and begin selecting the beautiful flowers and vegetables that will fill our outdoor spaces. But the rewards we reap are not only colorful yards and tasty food that we have grown ourselves. Gardening is also wonderful for your health. It's a great way to get that vitamin D which our bodies create when we spend time in the sun. By gardening, you can boost your endurance and strength, as well as flexibility.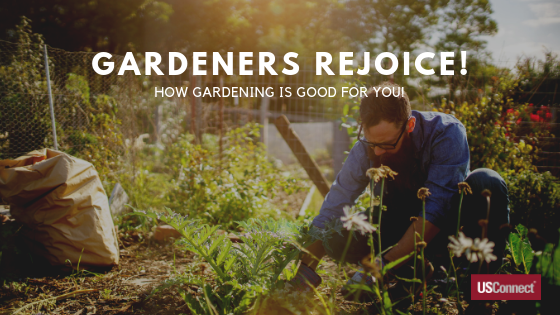 Another terrific aspect of gardening is that you can burn a lot of calories as you are preparing the soil, tilling and hoeing, digging and planting, and weeding and pruning. These activities are a great way to work some good cardiovascular exercise into your daily routine.
Jeff Restuccio who wrote Fitness the Dynamic Gardening Way says it's a good idea to alternate the more physically challenging gardening activities with the lighter work for a more structured exercise workout. He suggests, for example, raking for a while, then digging holes, then pruning.
As you do your "gardening exercise," concentrate on deep breathing, and for a real boost in calorie burning, exaggerate your movements to increase the range of motion. For example, while raking or digging, stretch further than you usually would. This can increase your calorie burning from 100-200 per hour up to 500 per hour according to Restuccio. The actual number of calories burned varies with age, weight, and how much muscle you have. The heavier you are, the more calories you will burn. The younger you are, the more calories you'll burn. Also, muscle burns more calories than fat, so if you have a more muscular build, you will also burn more calories.
In addition, try switching back and forth between hands when raking. Rake with your right hand 15 times, then do 15 times with your left hand. This will ensure both sides of your body are getting an equal work out.
For people who don't consider gardening a real workout, Restuccio says, "If you think double digging (going down a foot, turning the soil over, then down another foot, bringing that soil to the top) isn't exercise, you haven't tried it."
One of the best things about working in the garden, aside from the actual harvest, is that you can do it with the whole family. Get the kids and the grandparents out in the garden and let everyone participate. Make it a bonding activity that all can share, and in the process, everyone can get healthier too!
Some gardening safety tips:
Remember to stretch before you begin; gardening is exercise, and you can just as easily injure a muscle gardening as you can working out in the gym.
Be sure to stay well hydrated and use sunscreen.
To avoid hurting your back or knees, use a cushion when working close to the ground.
Instead of sitting on your heels, try to keep your back straight and be sure to stand and stretch every 10 minutes or so.
When choosing your shovel or spade, look for one that is lightweight and has a long handle.
Don't overload your shovel when digging, and remember to bend at the knee, stepping forward when you raise and dump each shovel full of dirt.
While bending to pick up tools or heavy bags, bend at the knees and hips to avoid back strain.